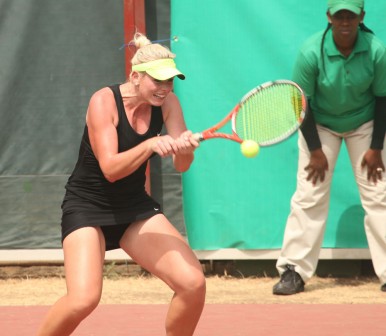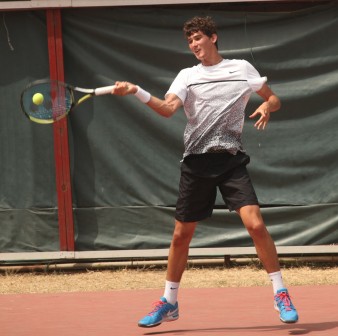 Three African players fought their way into the quarter finals of the second leg (Futures 4) of the 15th Governor's Cup Lagos Tennis Championship in the second round matches decided at Lagos Lawn Tennis Club, Onikan Wednesday.
The local players, however, are at the receiving end of defeats, as all the Nigerian players in the second round failed to make the quarter final stage.
Number two seed in the men's singles, South African Llyod Harris defeated Swiss player, Jessy Kalambay in straight set of 6-3, 6-3 to set up a quarter final match against France's Fabio Reboul who beat Nigerian Sylvester Emmanuel 6-2, 6-4.
Takanyi Garanganga of Zimbabwe stopped Nigerian Joseph Imeh Ubong in straight set of 6-4, 6-2, while Duncan Mugabe of Uganda defeated Deimas N'Tcha of Benin Republic in another straight set of 6-2, 6-0.
Umaru Balami could not survive the heat from tournament number sixth seed, Antal Van Der Duim from The Netherlands as he was defeated 2-6, 1-6.
In other results of the men'singles, Egyptian Karim-Mohammed Maamoun defeated Aaron Cortes Alcaraz who retired in the second set of their match after 7-5, 5-2. French Sadio Doumbia, number 4th seed, beat Ben McLachlan of New Zealand in 5-7, 6-36-1 game.
Meanwhile, the only Nigerian lady in the second round was sent out by French Tessah Andrianjafitrimo in a one sided match that ended 6-0, 6-0. Top seed, Vaeriya Strakhova from Ukraine beat Mara Schmidt of USA 6-0, 6-3.
Tadeja Majeric, who won a leg in the 2013 edition of the Governor's Cup beat Fiona Codino of France 6-1, 6-0. Xiaozi Zhao of China upset number sixth seed, Magarita Lazareva 7-6, 6-7, 6-1, while Swiss lady Conny Perrin beat SShivika Burman of India 6-3,6-1.
Prathana Thombare of India defeated Ushna Suhail of Pakistan 6-0, 6-2. Russian-born Nigerian Melissa Ishuan Fiddzhen could not fly past Julia Terziyska as she was sent packing in 6-0, 6-4 match, while South Africa-based Zimbabwean Valeria Bhunu was stopped by Ulrikke Eikeri Norway in 4-6, 6-1, 6-3 game.
In the quarter final pairings, Doumbia will face Van Der Dium, Duncan will play Garanganga, and Maamoun will battle Setkic in the Men's Singles.
In the Women's Singles, Strakhova will play Eikeri, Majeric will go to war against Thombare, Chinese Xiaoni will battle Perrin, while Andrianjafitrimo and Terziyska will settle scores in the last match of the quarter final.

Load more