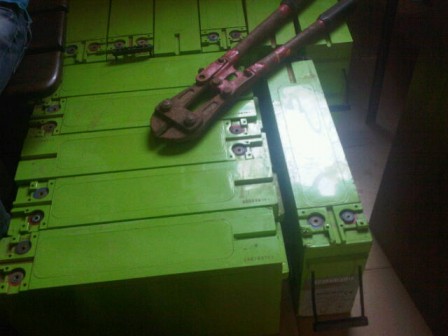 cyriacus Izuekwe
A 30-year-old man, Uboma Rowland, has been arrested and charged before Ejigbo Magistrate's court for allegedly burgling MTN base station and carting away 12 batteries that power the station in Lagos State, western Nigeria.
The incident happened at the MTN base station located at Independent Street in Akesan, a suburb of Lagos.
Rowland allegedly went along with another person to the station with another suspect now large in the morning and used a heavy cutter to break into the premises and stole the batteries.
While he and his accomplice were escaping, the security guards in the area accosted them and asked to know where they got the batteries.
When they did not give satisfactory answers, the guards held them and contacted the police at Igando Division.
While they were waiting for the police to come and pick them up, one of the suspects escaped.
The police took Rowland to Igando Station where he allegedly confessed to stealing the batteries.
He was charged to court with the alleged offence of conspiracy and stealing.
Roland pleaded guilty and the matter was adjourned for fact and sentence.
However, when the prosecutor, Femi Adeleye presented facts and asked the court to sentence him accordingly, Rowland changed his plea to not guilty.
The presiding Magistrate, Mr A. A. Fashola admitted him on bail in the sum of N200,000 with one surety in like sum.
Rowland was remanded in prison custody pending when he will perfect his bail.
The matter was adjourned till 25 January, 2016.

Load more