Eromosele Ebhomele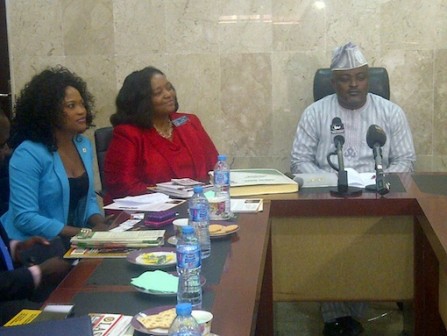 Speaker of the Lagos State House of Assembly, Mudashiru Obasa, on Tuesday told a visiting senator from the United States that though Nigeria's democracy is still young compared to that of the US, it has continued to remain strong.
Senator Donzella James, who has won election eight times, represents the Metropolitan Atlanta 35th District of Georgia in the United States of America.
Obasa also expressed the willingness of the Assembly to collaborate with the United States of America in all areas.
The Speaker, who noted that members of the Assembly have visited Atlanta, Georgia severally, noted that the city is like a second home to him and his colleagues.
He emphasised that Nigeria has a lot to learn from the United States, whose democracy, he said is older than that of Nigeria that is less than 20 years old.
According to Obasa, "we believe in participatory democracy in Nigeria and freedom of speech is recognised in our country.
"We are ready to work with you in all areas and we will continue to visit your country and ensure that the closeness between Nigeria and America is strenghtened."
While addressing Obasa and other lawmakers, Senator Donzella James, a member of the US Senate Committee on Economic Development, Tourism as well as Education and Youth, said she was no longer a stranger to Nigeria and that she has hosted many lawmakers from Nigeria in the United States.
The senator, who came with her team including her Chief of Staff, Ms. Queen Blessing Ituah, APC State Chairman in Pennsylvania, Idris Oluwafemi Rufus and Dr. Eugen Ituah, said she was ready to serve the Lagos State House of Assembly in such a way that her state and Lagos would both benefit from the relationship.
"I feel so proud to be here, if there is anything you want me to do to assist your state, I will be willing to support you. Agriculture is number in the US, especially poultry and we are willing to train your people.
"I would love to see you in Atlanta Georgia for exchange programmes. We do a lot of that with other states in Nigeria and we do exchange programmes for students and others. I also have many Nigerians as my personal staff," she said.
The senator, who has sponsored and co-sponsored 400 pieces of legislation, told the lawmakers that she was moved to tears when she visited the Badagry Museum in Lagos on Monday, adding that she was convinced that she was from Nigeria.

Load more