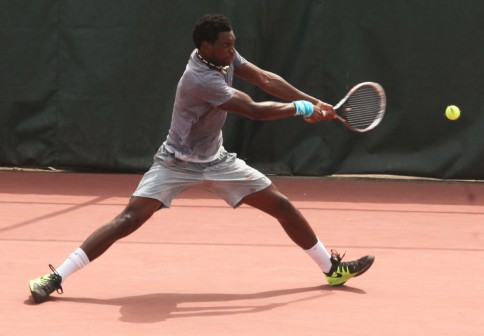 Sunday Akintoye
A US-based Zimbabwe player, Takanyi Garanganga has lamented the slow pace of development of the game of tennis in his native land.
Garanganga, one of the several foreign stars taking part in the 15th Governor's Cup Lagos Tennis Championship going on at the Lagos Lawn Tennis Club, Onikan on Lagos Island, opined that it is time Africa shifted its focus on other sports such as tennis instead of giving all attention on football.
Garanganga said he is worried that Zimbabwe has not been ranked among the tennis playing nation in the world, adding that tennis was a bit growing in his country in the 90s when there were tennis tournaments such as the Davis Cup and other junior tennis championships.
"There were a lot of junior competitions in Zimbabwe in those days and this kept the tempo of the game on the high side, but all of a sudden things changed and the game began to witness a downward trend till today," said Garanganga who played to the level of semi final stage in the first leg (Futures 3) of the Governor's Cup this year. He lost his semi final game to French star, Sadio Doumbia in straight set of 3-6,6-3.
"It is sad today that tennis is not growing in Zimbabwe compared to other countries in Africa. It was early 90s that Zimbabwe did well in tennis by organizing some international competitions but today all these tournaments are no more there," he said.
Commenting on the ongoing Lagos Governor's Cup Tennis Championship, he said the tourney had lived up to expectations in terms of quality of players featuring in the International Tennis Federation (ITF) approved pro circuits in Lagos.
The Zimbabwean commended the organisers for putting up a good tournament, adding that with the atmosphere and friendliness of the people, he would always loved to come to Lagos for the Governor's Cup.
He said the standard of this year's tournament is a little better than the previous editions.
Garanganga is playing in the second leg of the tournament which began on Monday. In his first match of the Main Draw, the Zimbabwean, who is the tournament's number three seed in the men's singles won his match against Edward Christopher Anefu of Nigeria who he defeated in straight set of 6-2, 6-2.
On his assessment of Nigerian players, Garanganga singles out Sylvester Emmanuel as a promising player who has a good future ahead in the game.
"Sylvester is a good player. He works very hard. I like his determination and the way he worked his way to the second round of the first leg of the tournament last week," he said.

Load more