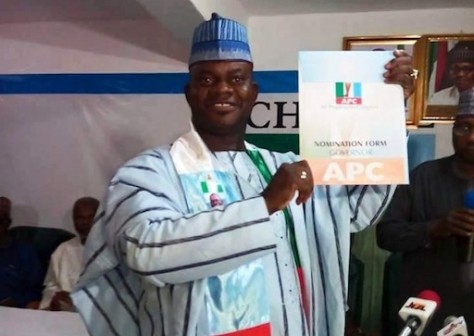 Odunayo Joseph
From the political imbroglio currently rocking Kogi State, it can be aptly said that the dust surrounding the recent return of Yahaya Bello as the governor-elect of Kogi State by the Independent National Electoral Commission (INEC) is yet to settle following the uproar generated over the declaration. This is apart from the challenging of INEC's decision in court, by Hon. James Abiodun Faleke, over the declaration of the 21 November, 2015 as inconclusive.
Following the sudden death of Abubakar Audu, the APC's flagbearer in the Kogi governorship election that was held on 21 November, 2015, INEC, without recourse to the provision of the constitution in solving the confusion that followed the unforeseen confusion caused by the sad development, declared the election inconclusive. This action did not go down well with the majority of the members of the party in Kogi State who held and are still holding onto the opinion that INEC should have declared Faleke as the bonafide governor-elect in the circumstance, having followed all the necessary laid down requirements as stipulated in the relevant section in the nation's constitution but which to the consternation of the people was truncated by INEC by declaring the election inconclusive and ordering a supplementary election on 5 December, 2015.
In view of the fact that legal avenues are open to Faleke in challenging the declaration of Yahaya Bello who never participated in the electioneering that paved way for the victory of the All Progressives Congress on 21 November, 2015, it behoves on the Federal Government or any of its agencies particularly the Central Bank of Nigeria to continue to withhold the N50.8 billion bailout to the state until final court's determination on who is rightful governor-elect for the state between James Faleke whose joint ticket garnered over 240,000 votes as against Yahaya Bello who secured only 6,000 votes in the supplementary election. The supplementary election was purely the brainchild of INEC with no recourse to the relevant Electoral Act on declaration of result vis-à-vis the number of voided votes or cancelletion of election results for one reason or the other.
Without mincing words Kogites cannot fold their arms while the bailout which burden of repayment will be borne by the present and their unborn generations is eventually mismanaged or embezzled by an illegitimate government. After all, we have witnessed many cases in the history of our democracy where INEC declared a winner as a state governor only for the Supreme Court to declare the electoral body's declaration as null and void. A stitch in time, so says an adage, saves nine.
—Joseph wrote from Okedagun Compound, Mopa, Kogi State. Tel: 08053488121; Email: [email protected]

Load more