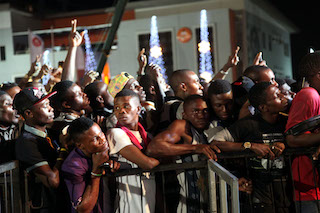 All is now set at the Lagos Bar Beach for the take-off of this 'One Lagos Fiesta' as the Lagos State Government, organizers of the event, has put everything in place for a memorable experience for Lagosians.
The event was initiated by the present administration to complement and improve on the popular Lagos Countdown Musical Show usually staged annually at the Lagos Bar Beach from 27th December, to 1st January.
The Fiesta has now been decentralised to add fun and entertainment to the festive period across the state without excluding any Lagosian regardless of location.
To achieve this, the event will hold simultaneously in Agege Stadium (Ikeja), Badagry Stadium (Badagry), Ikorodu Town Hall (Ikorodu), Bar Beach (Lagos) and Epe Youth Centre (Epe) from 27th December, 2015 to 1st January, 2016.
Apart from live performances by over 50 top artistes that would be done across the five different locations, other entertainment fixtures packaged by the organizers for fun seeking Lagosians at the Bar Beach include bouncing castles for children, Three-A-Side football pitch for both adult and children, stands for various food and drinks and large dancing area amongst others.
Children entertainment is scheduled to run from 10am to 6pm daily while that of adults is from 7pm till dawn.
It is to be noted that all the sponsors partnering with the Lagos State Government, in addition to law enforcements agents, are fully on ground in all the five different locations to ensure smooth running of the programmes.
Already the desired objectives of the Fiesta are being met as fun seeking Lagosians were seen thronging Bar Beach Waterfront to catch the fun.
Dr. Kadjat Balogun of the Lagos State Safety Commission who was at the Bar Beach said the health and safety team was on ground at the venue to ensure that food and drink vendors are operating within set standard to ensure the safety of all participants.
She disclosed that the State Government has involved all relevant agencies and the Local Governments and Local Council Development Areas in the various Divisions to ensure a hitch free Fiesta.
Aside from giving Lagosians the opportunity to relax and end the year in happy mood, the Fiesta is also organised to promote tourism potentials of the state as well as enhance the socio-economic well-being of the citizenry through increased commercial activities.

Load more