Okafor Ofiebor/Port Harcourt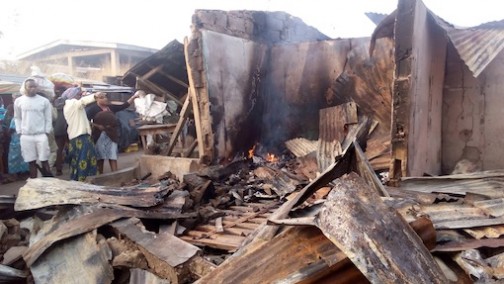 Mysterious fire suspected to have been ignited by arsonists have gutted the Rivers State Government multi-billion Naira Banana plantation located in Sogho in Tai Local Government Area of Rivers State on Boxing day.
The Multi-Billion Banana Plantation initiated by the administration of Chibuike Amaechi,which is operated under the Public Private Partnership,PPP, with an Isreali firm has the potential of providing employment for about 2,000 of Rivers people and for Agro-research.
Witnesses said the fire started on Saturday afternoon on the Sogho Banana Plantation in Tai Local Government area. They pointed fingers at suspected arsonists.
The Banana plantation project has been rooted in controversies with many members of the host communities protesting that the Rivers state Government did not fully engage them before their land was confiscated. However,the Amaechi government claimed that adequate engagements were made and adequate compensations paid to worthy bonafide owners of the land acquired.
Dr. Mesua Wilson Nwibari,the Caretaker Committee Chairman of Tai local Government Council who confirmed the incident tried to play down the magnitude of the damage and tried to rule out sabotage.
He claimed that a woman who was farming near the vast plantation put fire on her small portion of farm land and uncontrollable harmattan fire spread the inferno to the Banana farm.
The CTC Chairman was sharply countered by a witness who decried the abandonment of the multi billon Naira project by the present administration despite the potentials of the farm at a time the national economy is moving from crude oil based economy to agriculture.
At the time of filing this report, the inferno had been put off.

Load more