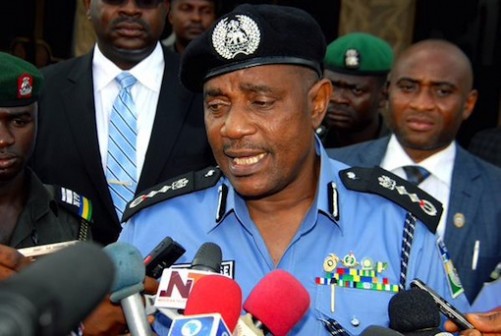 The Inspector-General of Police, IGP Solomon Arase, has warned police officers who are in the habit of indiscriminate checking of personal information on mobile phones of members of the public to stop such practices with immediate effect.
In a Police Circular titled: "REPORTS OF ALLEGED INDISCRIMINATE ACCESSING OF PERSONAL INFORMATION ON MOBILE PHONES BY POLICE PATROL TEAMS" dated 31st December, 2015, signed by the Force Secretary, AIG Patrick D. Dukumor and dispatched to all police state commands and formations nationwide on Monday 4 January, 2016, the IGP directed that severe disciplinary actions would also be taken against any officer (s) and their Supervisors (DPOs, Area Commanders and Sectional Heads) against whom a proven report of illegal mobile phone checks not supported by appropriate court orders or operational exigency is made.
All state Commissioners of Police and Formation Commanders were further directed to make the full content of the said Circular known to all officers attached to their respective Commands. The Circular also reminded officers to ensure protection of the Rights to private and family life as enshrined in the Constitution of the Federal Republic of Nigeria, 1999 as amended; Section 37 of the constitution states "The privacy of citizens, their homes, correspondence, telephone conversations and telegraphic communications is hereby guaranteed and protected"
The circular by the IG is sequel to several reports made to the Complaint Response Unit (CRU) by citizens most especially from Lagos, Oyo, Ekiti, Delta, Rivers and Edo states alleging indiscriminate checking of personal information such as emails, text messages and other forms of communication contents on personal mobile phones by some officers under the pretext of looking for fraudsters.
The CRU enjoins members of the public not to engage in any form of conduct that could result to use of any form of force by a police officer, rather the CRU should be contacted in respect of any police/citizen contact that are not satisfactory to them.
Trust me, our quick response will put a smile on your face.
Load more