Abiodun Onafuye/Abeokuta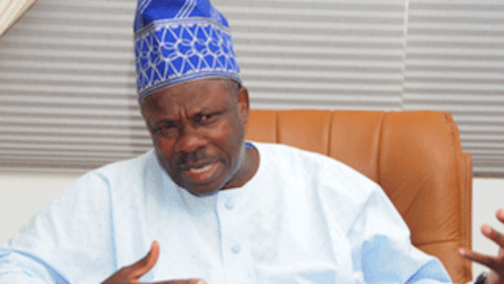 Governor Ibikunle Amosun of Ogun state has charged the new TRACE Commander in the state, Fatai Olaseni Ogunyemi, to go after traffic offenders and ensure that they are made to face the full weight of the law.
He declared that the Commander should not spare anybody, no matter how highly placed such person may be, even if he (Amosun) is the offender.
Amosun stated this Monday while decorating the new Commander and Chief Executive Officer of Traffic Compliance and Enforcement Corps (TRACE) in the state.
The governor performed the ceremonial decoration of the new Commander on Monday during the State Executive Council meeting held at the Governor's Office, Oke-Mosan, Abeokuta.
He lamented the high number of traffic law breakers in the state, charging him to enforce the law without fear or favour.
According to him, "Our TRACE should ensure that it is one law for everybody regardless of status. Even if the Governor takes one way, you should arrest him.
"This is a wake-up call to everybody. Anyone who breaks traffic law will be prosecuted."
He noted that the trend was even more pronounced among the rich and influential in the society.
The governor also frowned at the indiscriminate parking of trucks on the median along the Lagos-Sagamu expressway, as well as Sagamu Interchange.
Amosun emphasized that whoever assaults traffic officers would be charged appropriately, adding that the present administration would empower the new TRACE leadership to achieve its lofty objectives.
"I want the agency to endeavour to put an end to illicit parking of trucks on the median at the Sagamu Interchange and Sagamu–Benin expressway. These drivers should be brought to book without leaving any stone unturned," the governor stated.
Amosun, who expressed satisfaction with the performance of the Commander who had worked in acting capacity for eight months before his appointment, said Ogunyemi has demonstrated the Ogun Standard culture which, he said, qualified him for the task of co-ordinating and monitoring traffic regulations in the Gateway State.
Speaking with newsmen after the decoration, the new TRACE Commander pledged to intensify efforts in the discharge of his duties, saying that "whoever flouts traffic laws, would be taken to psychiatric hospital before prosecution."
Ogunyemi promised that the agency would engage in increased public enlightenment campaigns on how to make good use of roads across the state.
He pointed out that TRACE was not out to punish, but to correct road users in order to reduce accidents.