Kazeem Ugbodaga & Eromosele Ebhomele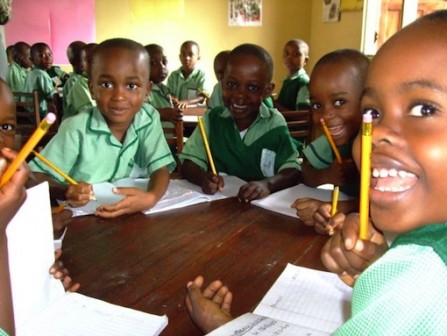 As Lagos public schools resumed on Monday, primary school pupils who are supposed to enjoy the 'A-Meal-A Day' programme of the State Government did not get to enjoy the meal on the first day of resumption.
Across the metropolis, all public primary schools pupils did not receive the meal, as the state government is yet to start feeding them.
At least, N2 billion is earmarked for the project in this year's budget by Governor Akinwunmi Ambode.
There was no sign of the meal being served in the schools as children observed the break period and closed from school without the meal.
A teacher from Seven Day Adventist, Akoka, Yaba who craved anonymity, said the school has not heard anything about the free meal for pupils, saying that government is yet to begin the scheme.
The 'A-Meal-A Day' programme not starting in Lagos public schools might not be unconnected with the non-passage of the President Muhammadu Buhari's 2016 budget by the National Assembly as the programme is a joint collaboration between the Federal Government and Lagos State.
Ambode had said that the programme would be done in collaboration with the Federal Government, which would provide 60 per cent of the funding.
He said that the state government would provide the remaining 40 per cent, noting that the programme would commence this year but no date was stated.
"This programme promises not only to improve the daily nutrition of our children, but also create an economy of its own, with opportunities for job creation, income generation, poverty alleviation, and so on," he said.
Also, Commissioner for Economic Planning and Budget, Akinyemi Ashade disclosed that N2 billion had been earmarked for the project.
Efforts to get the Deputy Governor and Commissioner for Education, Dr. Oluranti Adebule on when the free meal programme would start proved abortive as a text message sent to her mobile phone was not replied.