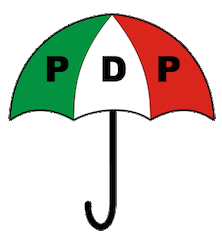 Kazeem Ugbodaga
The national leadership of the Peoples Democratic Party (PDP) has hailed the people of Bayesa State for ensuring the party won the governorship election and called for an inquest into the killings during the polls.
The party commended the people for standing against intimidation, rigging and violence to ensure that their will as a people prevailed in last Saturday's supplementary election.
A statement issued by Prince Uche Secondus, Acting National Chairman of the party said the steadfastness and resilience shown by the people, particularly in Southern Ijaw would go down in history as one of the many sacrifices made to defend democracy in the land.
"Rising from what happened in Bayelsa state on Saturday, it is very clear that the APC-led Federal Government under the watch of President Muhammadu Buhari is not disposed to free, fair and credible electoral process in the country despite being a huge beneficiary of PDP's electoral reform.
"However, by standing against intimidation and remaining resilient, the people have greatly contributed in deepening democracy in the country and by so doing ensuring that their own destiny is right in their own hands," the party said.
According to him, "Bayelsa is a core PDP state and one wonders how APC thought it could win in this gubernatorial election with its discredited candidate, knowing the strength and popularity of our great party in the state, in addition to the record of achievements of our candidate, Governor Seriake Dickson.
"The PDP, however, decries the desperation of the APC whose thugs and compromised security operatives openly engaged in violence resulting in the killing and maiming of innocent Bayelsans. We hereby demand a comprehensive inquest into these killings and that all perpetrators be brought to book.
"Finally, the PDP congratulates Governor Dickson for his well-deserved victory and statesmanly handling of the situation in the face of provocations."