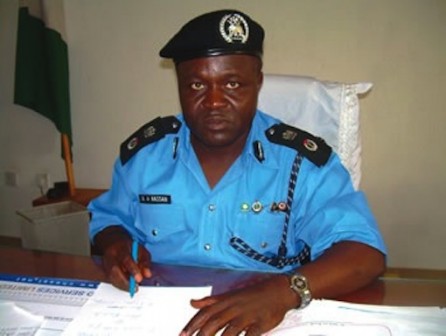 Bala Hassan, the Assistant Inspector-General of Police (AIG) in charge of Zone 2 Police Command, Lagos, says the police are winning the war against cultism.
Hassan, who made the assertion in an interview with NAN on Tuesday in Lagos, noted that cultism in Lagos and Ogun were of different dimensions.
The AIG said that cultism in Lagos was everywhere in the metropolis, including secondary schools and houses, while that of Ogun was in institutions of higher learning.
"We have noticed cultists around Ebute-Meta, Mushin and some parts of Lagos, but the Police Commissioner, Fatai Owoseni, is doing so much about it.
"The fact that he made success in tackling robbery makes me believe he will ensure that cultism is brought to the barest minimum in the state," he said.
Hassan said that he was glad that in Ogun about six days ago, 22 cultists laid down their arms and told the state government that they did not want to get involved in cultism again.
He noted that they surrendered their guns which were collected and the governor, Mr Ibikunle Amosun, granted them amnesty.
The AIG also said the Ogun police commissioner had arrested a large number of cultists before the Christmas and that recently, about 16 were arrested.
"He has been arresting them day in day out and charging them to court and maybe, it was the heat that was too much for them that made them to denounce cultism.
"And perhaps, the good will of Ogun Sate Government that if you do not want to practice cultism again, you can surrender your arms and you will be pardoned.
"That's why they came out to return their guns and embrace peace.
"These are some of the things that we are doing to ensure that things work for the better though the cultists are not in places where we can easily catch them.
"But definitely, we will get them because the development in Ogun is heart warming. Since the rate of robbery has reduced, definitely cultism will also reduce," he told NAN.
"We are still waiting for some information and also some communities have been writing to us that there are cultists in their areas.
"Some local chiefs around Ojo and Ajao wrote to me thanking me about what we did to some bad boys disturbing them in their areas.
"So, any time you write to us, even if you do not put your name, that there are some bad boys in a particular house we will send our taskforce there.
"We will inform the Deputy Commissioner Operations and the Commissioner to ensure they go after them and arrest them; that is the only way we can help ourselves."
Hassan said that the police had carried out a number of raids before Christmas and that contributed to the relative calmness in Ogun and Lagos states.
"Recently, we arrested about 20 to 30 of them, screened and arraigned them, so, we are disturbing them and by that raiding they cannot sit to meet for cultism activities.
"And also, they cannot plan to rob and because of the raiding, most of them have scattered and we will continue to disturb them, forcing some of them to move to neighbouring states.