Funsho Arogundade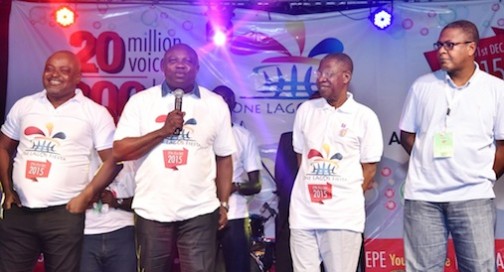 While still basking in the success of the 'One Lagos Fiesta' held for five days in five locations in Lagos in December, Lagos State government is set to unfold her roadmap for the tourism sector for the year 2016 to 2019.
In his Thank You message to Lagosians on Monday, Folorunsho Folarin-Coker, state Commissioner, Tourism, Arts & Culture, said in order to continue the spirit of One Lagos through 2016 and beyond, the state is ready to actively showcase and promote all her local governments all year round through various activities.
"I am happy to confirm that we will publish our tourism roadmap 2016-2019 at the end of this month (January) and will ask all interested parties to partner with us to deliver the future," Folarin-Coker said.
The commissioner added, "we currently have plans to host a Marathon, a Lagos Island Fiesta, Epe, Badagry and Surulere Cultural Days, The Taste of Lagos (Culinary), Eko Fashion Show, The Festival of the Drums, Eko Jazz Fest, Lagos Beach Fiesta (Elegushi, Bar Beach, Tarkwa Bay, Ilashe, Badagry), Lagos Boat Regatta, Independence Day Celebrations, Eko Music Show, Lagos Boat Race and the Lagos Beer Festival,just to mention a few."
While thanking all who made the One Lagos Fiesta successful, Folarin-Coker stressed that the primary reason behind the fiesta was to expand the existing annual crossover celebration, known as the Countdown, and the secondary objective was to launch strategy of using entertainment as a tool to drive and harness tourism in Lagos State.
"Lagos, as we know, is home to the globally recognized Nigerian entertainment industry, led by Nollywood and the numerous genres of music produced here. These are supported by Comedy, Fashion and Culinary delights that serve up a medley of dishes, representative of all tribes and cultures of Nigeria, sub-saharan Africa and have along the way infused recipes from the expatriate community, all loving, living and working in Lagos. Our philosophy was simple, we are 'One Lagos' unique in character, spirit, vibe and flavour," Folarin-Coker said.
For the first time, 25 simultaneous concerts in five locations for five days was successfully organised in Lagos State. In Badagry, Ikorodu, Agege, Epe and Bar Beach, world-class productions, made possible with the active support of renowned technical producers were delivered.
All the venues were also encouraged to showcase their indigenous flavours, up and coming performers, dance and cultural troupes, combined with the daily appearances of Nigerian superstars.
The template was simple and the same across all venues, the performers, artistes, comedians etc. were rotated across all venues over the five days.
"We know that never before have the people of Lagos been so richly entertained all over the city for free. I am so pleased that the city came out in that spirit during the last five days of 2015. We wanted to celebrate all Lagosians regardless of their location," Folarin-Coker stated.