Cyriacus Izuekwe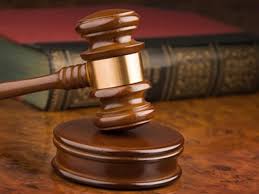 A 48-year-old tenant has been arrested and charged before Isolo Magistrates' court and remanded in prison for allegedly making false claim against his landlord in Lagos State, western Nigeria.
The tenant, Newton Akurunwa, had alleged that his landlord, Tajudeen Balogun, was bewitching his family through some charms he allegedly planted his apartment to eject him.
The incident happened at 27, Oshogbo street in Itire where Akurunwa resides with his family.
Apart from that, Akurunwa further went to Itire police division and reported that his landlord, Balogun sneaked into his three bedroom apartment and planted charms that had caused untold hardship on his family.
Akurunwa lamented that since the charms were planted in his apartment by Balogun, his family had not known peace.
He alleged that Balogun did so because he wanted them to leave the apartment they paid over N600,000 as rent at all costs.
Unknown to Akurunwa, another trouble was waiting for him when he went to police to report the matter.
The police invited both Akurunwa and Balogun for interrogation over the allegation.
During the investigation, Akurunwa was unable to prove his case by presenting witness and evidence.
Balogun then turned round to institute false claim and information against him and the police and sought Akurunwa's prosecution.
He was arrested and charged before the court with conduct likely to cause breach of public peace by making false allegation against Balogun.
He pleaded not guilty.
The presiding Magistrate, Mrs A. O. Adedayo granted Akurunwa bail in the sum of N50,000 with one surety in like sum.
Akurunwa was remanded in prison custody pending when he will perfect his bail condition.
The matter was adjourned till 3 February, 2016.