Taiwo Adelu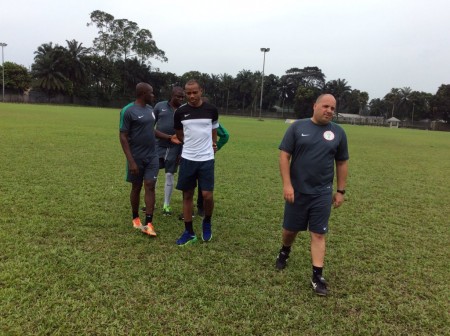 Chairman of Nigeria Football Federation, NFF, Technical Committee, Felix Anyansi-Agwu has declared that Super Eagles Team B won't be given any target to meet as they begin campaign in the Rwanda 2016 African Nations Championship, which begins Saturday, 16 January.
Anyansi, who is also the chairman Enyimba Football Club of Aba, said that what the federation and indeed the generality of soccer loving Nigerians want from Coach Sunday Oliseh and his Eagles is a good outing that will surpass the record they had in the last edition of CHAN.
Erstwhile coach of the Super Eagles, Stephen Keshi took Nigeria to South Africa where they finished third in this same competition two years ago.
And with preparation that started in Abuja last December, which also took them to Pretoria, South Africa on 2 January this year, where Oliseh's Eagles played two international friendly games against Angola (1-1) and Ivory Coast (1-0), all eyes will be on the team to make Nigerians proud in Rwanda.
"We believe that there is no need for us to give the team any target this time around. But we are expecting from them is to have a good outing that will surpass the last record they made in CHAN.
"I think this is natural. There is no target but we expect them to do well. They finished third in the last edition two years ago and it is natural that the team should work very hard to surpass this record in Rwanda. A precedence had been set, so it is natural for the team to surpass this," Anyansi said.
Nigeria will begin their campaign against Niger on Monday, 18 January at the Stade Régional Nyamirambo in Kigali.
One of the most anticipated games of the tournament is undoubtedly the 'Battle of the Eagles' between Nigeria's home-based Super Eagles and Tunisia's Carthage Eagles