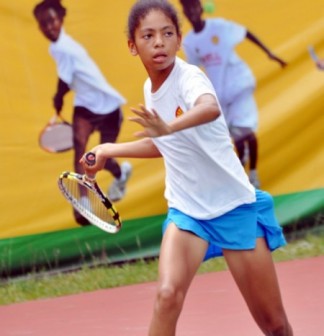 Host Nigeria continued its impressive showing at the ongoing ITF/CAT West and Central Africa Junior Championship in Abuja on Wednesday with the majority of the players advancing to the knockout stage of the 12-nation tournament billed to end on Saturday.
South Africa-based Adetayo Adetunji opened the floodgate of triumphs for Nigeria as she outplayed Linda Elondou of Cameroun, who is based in the US, 6-1, 6-0 to keep her perfect record in pool A of the girls 16 and under category, while Angel McLeod beat Aichata Keita of Mali to also preserve her unblemished record in pool B of the category.
Timipre Maxwell beat Cameroun's Patricia Wamba 6-4, 3-6, 10-5 to qualify from the girls 14 and under and Rebecca Ekpeyong also progressed to the knock-out stage by beating Naa McKorly of Ghana 6-0, 6-0.
Ekiti state junior champion, Daniel Adeleye edged Ghana's Kenneth Adzokatse in a tough match which ended 5-7, 6-3, 12-10 to stay on course for the boys 12 and under title.
Tunisia 2015 Africa Junior Championship bronze medallist, Michael Oshewa maintained his superb form as he whitewashed Souleymane Quattara of Cote d'Ivoire 6-0, 6-0 to set up a semifinal clash with Charles Alipoe of Togo, a 7-6, 6-3 winner over Musa Sani of Nigeria.
A mouth-watering semifinal clash in the Boys 16 and under category on Thursday will see Nigeria's Christopher Itodo face Frederic Coulibaly of Cote d'Ivoire after both players defeated Felix Hammond of Ghana 6-3, 6-3 and Peter Lawal of Nigeria 6-7, 6-0.
In the boys 14 and under category, Friday Gabriel also defeated Cameroun's Paul Wamba 6-0, 6-0 to set up a semifinal match-up against Eliakin Coulibaly of Cote d'Ivoire, who beat Saminu Abubakar of Nigeria 6-2, 6-4.