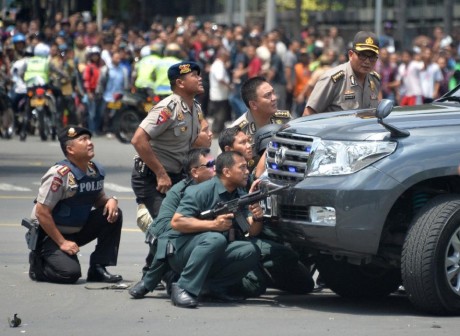 Several explosions went off and gunfire broke out in the centre of the Indonesian capital on Thursday and police said they suspected a suicide bomber was responsible for at least one of the blasts.
Media said six bombs went off and a Reuters witness saw three dead people and a gunfight going on.
One blast was in a Starbucks cafe and security forces were later seen entering the building.
"The Starbucks cafe windows are blown out. I see three dead people on the road. There has been a lull in the shooting but someone is on the roof of the building and police are aiming their guns at him," said a Reuters photographer.
Indonesia has been on edge in recent weeks over the threat posed by Islamist militants and counter-terrorism police have launched a crackdown on people with suspected links to Islamic State.
According to the official Jakarta police Twitter account one explosion went off in front of a shopping centre called the Sarinah mall, on a main city avenue. Media said a police post outside the mall was blown up.
"I saw a police officer shot right in front of me," one witness told TV One.
Police snipers were deployed, according to media.
A U.N. building near the scene was in lock-down with no one allowed in or out, a witness said. Some other buildings in the area were evacuated.
Indonesia's central bank is located in the same area, and a spokesman for the bank said a policy meeting would go ahead as planned later in the day.
*reuters