Cyriacus Izuekwe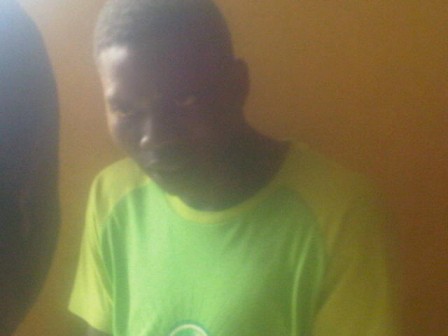 A 63-year-old professor has invited the police to arrest a 26-year-old man he accused of threatening his life over his 52-year-old wife he sent away in Lagos State, western Nigeria.
Ekiti state-born Professor Adeniyi Adegoriola had gone to Ikotun police division and reported that Solomon Adeyi was threatening his life after he sent his wife, Bunmi, away from his house.
He said both Adeyi and his estranged wife, Bunmi are living together and that had hindered Bunmi from coming back to him.
Adegoriola told the police that after he sent his wife, Bunmi away, Adeyi who now lives in Bunmi's rented apartment started threatening to kill him through text messages.
However, the embattled woman denied being Adeniyi's lover and did not threaten Adegoriola as he claimed.
According to Bunmi, she married Adegoriola 14 years ago and they had only one child.
She said Adegoriola had married four other women before her and she got to know that after he had impregnated her.
She said she lived with Adegoriola at 32, Prophet Amowa street, Onitire bus stop, Abarange in Ikotun area until last year when he threw her properties out of their matrimonial home and sent her away.
She narrated that during those years she was living with Adegoriola, she was subjected to constant beating and torture before he eventually sent her away.
Bunmi said she later squatted with friends and relations and was able to secure an accommodation later.
She said Adeyi, who is her friend's relation, came and lived with her to assist her in her business.
She said when Adegoriola discovered that Adeyi was staying with her, he traced her house and asked her to return but she refused. He started alleging that it was because she was staying with Adeyi that she refused to come back as his wife.
He threatened to deal with Adeyi and went ahead to invite the police who arrested Adeyi and charged him before Ejigbo Magistrates' court.
When our reporter confronted Adeniyi, he declined to make much comment and only said he wants Adeyi to be arraigned in line with the court rules.
Adeyi was eventually arraigned for threatening to kill Adegoriola under the Criminal Code.
He pleaded not guilty and the presiding Magistrate, Mr A. A. Fashola granted him bail in the sum of N100,000 with one surety in like sum.
Adeyi was remanded in prison custody at Kirikiri pending when he will perfect his bail condition.
The matter was adjourned till 8 February, 2016.