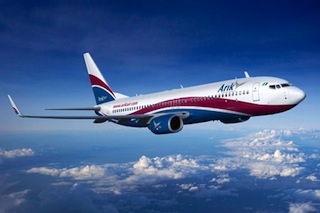 Arik Air on Friday introduced a new flight service between Nigeria and Gabon as part of the airline's expansion programme that commenced on Feb. 12, 2015.
This was contained in a statement signed by the airline's Communications Manager, Mr Ola Adebanji, and made available to newsmen in Lagos.
The statement said that Arik Air would be flying from Lagos and Port- Harcourt to Libreville, Gabon.
It added that this would be the first international route launch in 2016 by any airline in Nigeria and first in the series of new destinations the airline was planning for its 10th anniversary.
"The Lagos-Port Harcourt-Libreville service will operate thrice weekly on Tuesdays, Fridays and Sundays out of Lagos and Port-Harcourt to Libreville and on Wednesday, Saturday and Sunday out of Libreville to Lagos and Port -Harcourt.
"The outbound flight departs Murtala Muhammed International Airport (MMIA), Lagos at 5:20 p.m. and arrives in Port-Harcourt International Airport at 6:30 p.m.
"The flight, thereafter, continues onto Libreville, leaving Port-Harcourt at 7:15 p.m. and arriving in Libreville International Airport at 8:30 p.m.
"The inbound fight departs Libreville at 7:30 a.m. and arrives in Port- Harcourt at 8:45 a.m. The flight then leaves Port-Harcourt at 9:30 a.m. and arrives into Lagos at 10:40 a.m. All times are local," it said.
The statement said that Libreville had become the airline's second destination in Central Africa and the 13th international destination.
It explained that Arik Air was the only airline to offer a direct service between Nigeria and Gabon.
The statement noted that Libreville, being a notable trade center in the Gulf of Guinea, was a haven for Nigerian traders especially, those from the South-Eastern region.
It explained further that it was also home to a ship building industry, brewing industry and it exports raw materials such as wood, rubber and cocoa from the main port.