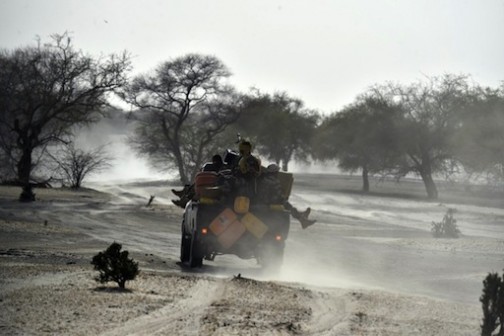 Nigeria Diaspora security experts have applauded the improved security infrastructure in Nigeria.
This was made known by the Chairman of the forum, Temitope Olodo, in a statement.
According to the statement, a meeting will be held in the UK this Saturday, 16 January, 2016, involving "Nigerian Community Leaders and key figures in the security industry at Nigeria Diaspora Security Forum (NDSF) inaugural event in 2016 where the issue of Nigeria's Security Scorecard would be discussed."
NDSF applauded the decision of the Commander-in-Chief of the Armed Forces, President Muhammadu Buhari, to meet with the Chibok Girls family and their supporters.
Olodo, a Preventive Terrorism Expert, also stated that "the administration of President Muhammadu Buhari promised to improve security and contribute to the safe return of the Chibok Girls; NDSF also made representation to the President on the same matter when he was campaigning and the diaspora community is watching and confident Mr. President would deliver his promise."
He said NDSF welcomes the decision of the Federal Government to setup a new investigation but Nigerians in the Diaspora are tried of "continuous investigation panels" whose reports outcome are never published publicly and lack the necessary diversity that would boost the integrity of such report.
"In light of the above, we are calling on the Federal Government to be proactive in ensuring that all previous white papers on security are published on the Ministry of Justice website in line with the legislative stipulation of the Freedom of Information Act.
"The new investigation panel should be inclusive of young talented experts, community leaders and relevant diaspora consultants that could make the outcome effective.
"We are using this medium to call on the Federal Government of Nigeria to setup a Special Taskforce with sole responsibility of handling the issue of the Chibok Girls; and this Special Taskforce should be a multi-agency security operational focused body.
"NDSF is concerned that there is little or no discussion in the public domain regarding the 'Safer School Initiative' fund and we are calling on the Federal Government to guarantee transparency in the availability of information to Nigerians on this matter, IDPs funding and Boko Haram Victim Fund.
"We in the Diaspora have faith in Mr. President and his promise on security; we have witness improvement in Nigeria security infrastructure but it is critical that Mr. President maintain his connectivity with the majority of Nigerians in the Diaspora that encouraged their family and friends to vote for him – he must consider us as a constituency in his decision making process," Olodo said.