Kazeem Ugbodaga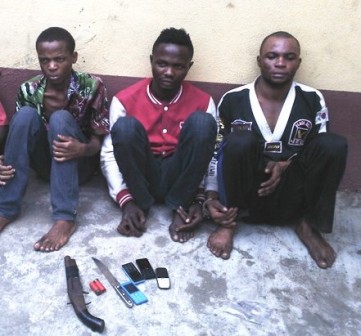 A member of a 3-man robbery gang arrested at the weekend by the operatives of the Rapid Response Squad (RRS) of Lagos State Command, has revealed that he went into robbery to raise funds for his diabetes drugs.
The suspect, Phillip Toihile, 24, along with his two accomplices, Salifu Abbey, 26, and Idris Sulyman, 28, were picked up in Ijora by the RRS operatives at about 10:00 pm while attempting to rob a taxi driver, Amori Fatai.
Upon arrival at the RRS' headquarters at Alausa, Ikeja, Lagos, southwest Nigeria, Toihile, who confessed to the crime, explained that he went into robbery to raise N17,000 to buy his prescribed drugs.
The suspect, an ex-convict, who was released from Kirikiri prison in July 2014, stated: "This entire thing is like a temptation. With my condition, I am not expected to be found in a situation like this. I was sick. I went to a health centre. They said I am diabetic and that my sugar level was 475 milligram. The doctor prescribed some drugs worth about N17,000. I was told at the health centre to go and get the drugs and come back for further test.
"So, I invited my friend, Salifu Abbey, and I explained to him my situation. I sought his cooperation and he agreed to assist me to raise the funds. I got the gun that we used in Yaba Railway yard. The gun was wrapped with a polythene bag by cart pushers. I picked it with two live cartridges and we mapped out our plans."
In his confessional statement to the police, the suspect narrated further: "I told Salifu to wave down a taxi cab. Our plan was for the cab to take us to a desolate place where we can rob and dispossess the driver of all his day's takings. We told the driver that we were going to Ijora, and that we are going to get down in two separate points. I would get down first while Salifu would alight later.
"I sat at the back seat while Salifu was in front beside the driver hiding a locally made long gun in his rain jacket. We were close to my bus stop when the driver, apparently frightened asked for the fare.
"Salifu and I started arguing on who should pay the fare, which was part of our plan. Unfortunately, Salifu was pulling out the gun when RRS men approached the vehicle to see if everything was alright with us but he noticed Salifu was trying to hide something. They searched the vehicle and found our gun, a knife on me and two live cartridges."
Salifu, a labourer and Toihile's accomplice has distanced himself from the crime.
"Although the gun was found on me, it was given to me by Toihile. He told me he was returning the gun to the owner in Ijora while he was on his way to his girlfriend's house. He begged me to help him conceal the gun. Because he was looking frail and emaciated, if he had a gun on, people would spot it. Besides, what I was putting on was a jeans and overall jacket, I felt it was easier for me to hide the gun," he said.
Salifu noted that he felt very bad getting involved in a robbery case, adding that his wife and children would not forgive him whenever they found out.
Another suspect, Sulayman, 28, who is an ex–convict, turned shoe cobbler, was fingered far away from the crime scene, by the two arrested suspects, as the leader of the gang when they were arrested.
While denying any involvement in the crime, Idris was arrested by the police when he was trying to monitor his gang operation through phone.
"After I regained my freedom from prison about a year ago, I have turned a new leaf," he added.
He maintained that he was trying to know the whereabouts of Salifu, whose wife, he claimed, visited his shop when they didn't see him at home.
The taxi driver, Fatai, said that he took the suspects at about 9:30p.m in Yaba.
"Because they were two and were dropping off at separate locations, I charged them N700 but they negotiated to pay N500 and I carried them. I sensed some strange feeling a few minutes later when I requested for fare and they started arguing.
"At this time, we were close to Ijora. I parked and waited for them to settle the issue among themselves. Suddenly, Salifu, who sat beside me in front brought out a gun and just in the nick of time, the RRS parked beside us and sighted the gun. That was how they were arrested," the cab driver explained.
"I never knew they had planned to rob me, even kill me because I had no money on me. I got the vehicle on hire purchase. I am only using the vehicle to support my main business, I am a mechanic. Whenever I close from workshop, I pick up my taxi," he stated.