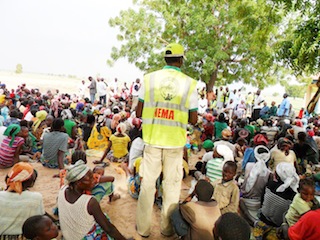 Prof. Bem Angwe, the Executive Secretary, National Human Rights Commission, (NHRC), has decried the neglect of at least 4,723 Internally Displaced Persons (IDPs) at various locations in Taraba.
A statement issued by the commission's Deputy Director, Protection and Investigations, Mr Lambert Oparah on Sunday in Abuja, said that Angwe made this known while on an official visit in Taraba.
The statement said that Angwe described the situation in Taraba as highly deplorable and requiring urgent attention.
"Despite the fact that most of the IDPs had spent more than two years in their settlements, neither the government nor relevant agencies showed concern about their plight.
"At Gullong, one of the settlements with over 259 IDPs, there were no foodstuffs, no mattresses, no security or even medical facilities for the displaced persons and their children.
"The children were roaming about without any form of educational programme.
"The Taraba government and relevant agencies have the obligation and responsibility to protect and provide for these people because they are Nigerian citizens,'' the statement said.
The statement, therefore, called on the National Emergency Management Agency to take steps to rescue the situation.
Angwe promised to liaise with the Presidential Initiative on IDPs to improve the living standard of the internally displaced persons.
The statement said that Mr Nugalga Dan-Habu, the Permanent Secretary of the state's emergency management agency, had told the visiting team that the state government was not aware of the presence of the IDPs in the state.
He, however, pledged to inform the governor on the issue.