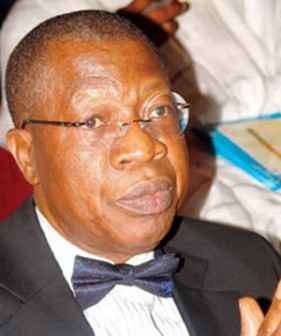 The Minister of Information and Culture, Alhaji Lai Mohammed, has identified corruption as the biggest threat to the survival of democracy in Nigeria, hence the need to fight the vice to a standstill.
The Minister made the remarks in Abuja on Tuesday when he received the Save Democracy Group Africa in his office, saying corruption must be tackled for the people to appreciate and reap the dividends of democracy.
"I believe that the greatest danger today to our democracy is corruption. This is where I would want the Save Democracy Group Africa to partner with government. I know one of the sessions you are holding (during the forthcoming National Political Summit) will be about good governance, but I think the group should devote a whole plenary secession to address the issue of corruption.
"Whether you are talking about the First Republic or the Second Republic, every republic has been brought down by corruption, pure and simple," he said.
The Minister told the visiting members of the group that the rationale behind the National Sensitization Campaign against Corruption, which was launched by his ministry on Monday, was not to vilify anybody but to let Nigerians know the damage that corruption has done to their well being.
Alhaji Mohammed further explained that his recent revelation about how 55 people allegedly stole N1.34 trillion in eight years was aimed at bringing to the fore the nefarious activities of a few individuals, which have in turn negatively impacted on the lives of the citizenry.
"As I have tried to explain in that statement, if only one-third of those funds could come back to the system, it would build 600 kilometres of double-carriage way using the World Bank figures and costs. In addition, that same money would build us 2,062 units of two-bedroom flats, it would give us 36 ultra-modern hospitals. It would be enough also to educate 3,974 students from primary school to tertiary level."
In his remarks, a leader of the Group and former Deputy Senate President, Mr. Ibrahim Mantu, said the Group was formed in 2014 to promote politics without bitterness in the country.
He said the Group was leveraging on the seamless transfer of power from the ruling party to the opposition in 2015 to strengthen democracy in Nigeria.
Also speaking, the Chairman Board of Governors of the Group, former Speaker of the House of Representatives, Ghali Na'abba, said the maiden National Political Summit would come up 25-26 January 2016 at the International Conference Centre in Abuja.
He said the Summit would, among other things, unite the political class and other stakeholders to build a platform that promotes an enduring democracy, stabilizes the polity and promotes internal democracy in the political parties.