Okafor Ofiebor/Port Harcourt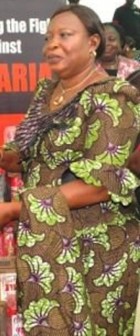 The Commissioner for Local Government Bayelsa, Madam Sarafina Otazi who was kidnapped on December 20 in Otueke on her way to Ewoi Community in Ogbia local Government of Bayelsa State has been released by her abductors in the early hours of Thursday.
According to Comrade Alagoa Morris, a well known environmental rights activist and human rights crusader who confirmed the cheery news this morning to PM NEWS "If information just received is true (and I have 99% reasons to believe it is true), then the commissioner (lady) who was kidnapped in Bayelsa state has been released by her abductors in the early hours of Thursday."
"The kidnappers dropped her in (Ondewari,) my community in Southern Ijaw local government area of the state at about 3:00 am and zoomed off in their speed boat.
"Very unfortunately they are putting my community in bad light," he said, adding that, "she was later made to board one of the speedboats leaving the community this morning for Yenagoa around 7:00am."
Alagoa did not however disclose how much ransom was paid to secure her release.
He said as expected, ransom was paid before her eventual release and that her kidnappers were said to have demanded for N20 million.
He explained further that after the leadership of the Ondewari community got the information of Otazi's presence they took her to the home of the acting chief of the community and she was later escorted by the Community Development Committee leadership, out of the community to Yenagoa.
Otazi was seized at gun point and forcibly taken away on December 20 at Otuoke while on her way to Ewoi community in Ogbia local government area for a funeral.
The kidnappers, according to her family members, earlier established contact with them and were demanding a ransom of over N20 million to set her free.
A family member, Endurance Frank, had earlier confirmed contact with the abductors while she was in captivity.
Otazi had served as Commissioner for Women Affairs and acting chairman of Ogbia local government council.
Bayelsa Police Command is yet to react to the release of the commissioner.