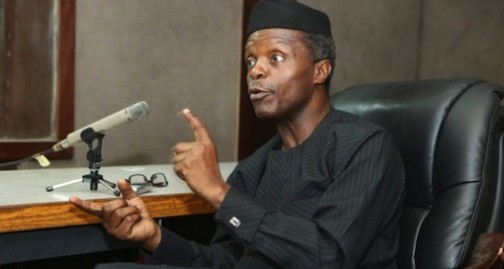 Nigeria's government is considering changes to the tax regime as part of efforts to overcome the crisis in Africa's biggest economy brought on by falling oil prices, Vice President Yemi Osinbajo said on Friday.
The sharp drop in crude revenues, which provide 95 percent of foreign earnings, has led to the naira hitting record lows on the parallel market as foreign exchange reserves dwindle. Nigeria is Africa's top oil producer.
Crude prices have fallen in the last few days to their lowest levels since 2003, at just over $27 a barrel, although they staged a rebound on Friday. The 2016 budget assumes an oil price of $38 per barrel.
Finance Minister Kemi Adeosun has said Nigeria plans to borrow up to $5 billion from multiple sources, including the Eurobond market, to plug its budget deficit and Osinbajo said changes to taxation were also being considered.
"We are looking at increasing our tax coverage," Osinbajo, who is attending the World Economic Forum in Davos, Switzerland, told CNBC in a television interview.
"VAT, for instance — we have been doing just about 20 percent coverage. We think that just by increasing coverage we could do much more and so we could earn more in terms of local resources," he said.
Increasing value-added tax from 5 percent, among the world's lowest VAT rates, and broadening the tax base were among suggestions put forward by International Monetary Fund head Christine Lagarde during a visit to Nigeria this month.
During her visit, Lagarde also said the IMF did not support foreign exchange restrictions.
The central bank, whose monetary policy committee will meet on Monday and Tuesday, imposed FX restrictions last year aimed at conserving foreign exchange reserves and there have been calls from investors for these to be eased.
"We know that the central bank will just have to do the right thing at this time," said Osinbajo.
"The central bank has told us, and it was announced even in the president's budget speech, that they intend to take a flexible approach and deploy whatever tools are necessary to ensure that we stay competitive."
The naira NGN=D1, which has been hit by the foreign exchange scarcity, fell to a record low of 305 per dollar on the parallel market last week, compared with the official rate of 197.
The slump has prompted speculation that a formal devaluation of the currency may be imminent.