Okafor Ofiebor/Port Harcourt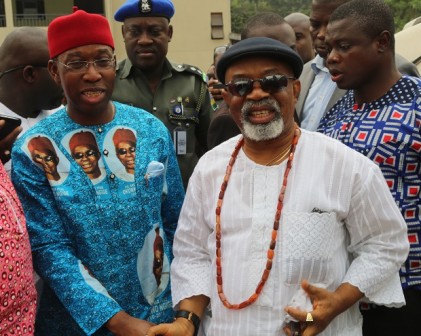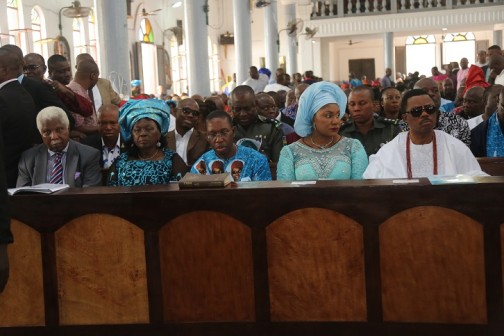 Ifeanyi Okowa, Delta state Governor, accompanied by a team of prominent Deltans, Friday attended the burial of Pa Pius Ngige, father of Minister of Labour and Employment, Dr Chris Ngige.
Governor Okowa was among the early arrivals for the requiem mass which took place at St. Mary's Catholic Church, Alor, Anambra State with a retinue of Catholic Bishops in attendance.
President Muhammadu Buhari, represented by the Secretary to the Government of the Federation, Engr. Babachir Lawal, also commiserated with the family of the late Pa Ngige.
Some of those who attended the ceremony include former Nigeria's Vice President, Dr Alex Ekwueme, Governor of Anambra State, Mr Willie Obiano; Governor Adams Oshiomole of Edo State; former Governor of Anambra State, Mr Peter Obi; former Governor of Lagos State, Asiwaju Bola Tinubu, former Governors Segun Osoba and Rotimi Amaechi; Senators, Ministers, top officials of government, and politicians.
Delivering a sermon at the service, Bishop Paulinus Eze-Okafor challenged political office holders to make Nigeria better by putting the interests of the people first before that of self.
"Governance should be a vocation, it should be a calling; those in government have a duty to make Nigeria a better place, you must be able to put the people first before yourself; leadership is not an easy job, it is a calling."
"As someone in government, have good intention and people will support you," the Bishop said, and used the occasion to urge Christians to prepare for their death.
He said Christians should know that they will die some day, asserting, "actually, as you are getting older, you are getting closer to your grave. We should not despair, it is normal because, that we are dying gradually does not mean the end of it all. There is hope that after this life, there is another life for us to enjoy if we live our lives well on earth.
"Nothing good comes easy, so, we must work for our salvation. Your getting to heaven will depend on how you live in this world and it is important that we keep the commandments of God."
Pa Ngige who died at 105 years was a civil servant who became self employed, a devout Catholic is survived by a brother, six children, 30 grand children, 30 great grand children and other relatives.