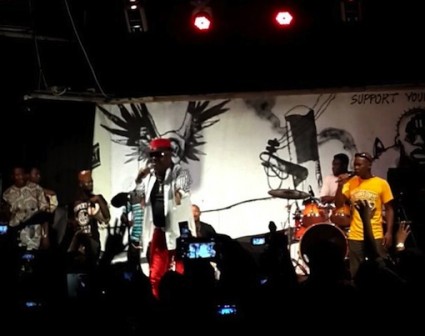 Its not impossible that even the Queen of England is pondering knighting Shina Peters for real after his breathtaking performance at the Afropolitan Vibes held at the Freedom Park in Lagos, Nigeria.
After his performance, 'Legendary', was the word flung around to describe and explain his showing, put simply, Shina Peters rolled back the years in style.
His performance was so smooth and unforgettable that Twitter users caught the bug and were given a glimpse of the action they missed via Vine.
No doubt, Shina Peters has gone from the days of wearing shoulder pads and exuding athleticism but even with his protruding belly, he showed he was a real talent.
Here's what people have to say about him on Twitter:
Sir Shina Peters is a legend!

— Maryam Abubakar (@mareeyama) January 23, 2016
You can't hear Sir Shina Peters music and not want to sing along or do his dances. Afro Juju Shina

— Kay Baba (@datGuyKOFO) January 23, 2016
For those of you that don't know Sir Shina Peters.. he's was the 2face, Wizkid and Davido your moms were tripping for in those days

— The Real BOO (@OAUsingles) January 23, 2016
You guys may not understand; Sir Shina Peters rolled back the years!!!!

— Chief Babyboy (@BishopAde) January 23, 2016
Freedom park live! Sir Shina Peters is a living legend..Makes one wonder if wizkid or davido will be able to hold a concert 20years from now

— Uzodinma (@Whosaur) January 22, 2016
I can't believe Sir Shina Peters is trending over outstanding performance in 2016. True legend. 🏆💯 https://t.co/ZMwuGqO48S

— Oriss Areg⛽ (@Oriss_Areg) January 23, 2016
I remember Sir Shina Peters for his trademark Shoulder-Padded Shiny Suits.

— Ebuka Akara (@ebuka_akara) January 23, 2016
Sir shina peters baba o fe sempe lol

— ♡̨gbemisolãrh♡̨ (@gbemisolarh_) January 23, 2016
Big thanks 2 @afropolitanvibe 4 a FAB!FAB! show last nite 👌Sir Shina Peters – Legend of AfroJuju. Worth the wait!! 🎵omoge jo'ijo shina🎶

— ireti bakare-yusuf (@sisiogelagos) January 23, 2016