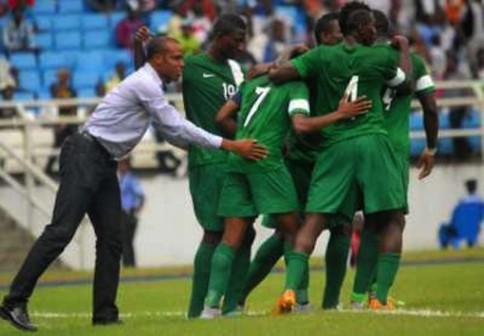 Etim Esim, an ex-international on Saturday said that the home-based Super Eagles 1-1 draw against Tunisia was not a bad result for the country.
Etim who spoke to NAN on telephone in Lagos, said that there was room for improvement in their next match against Guinea.
"The Tunisian team is a strong side; they have a well-coordinated league than what we have in Nigeria, so I'm not surprised with the result. A win or a draw is all we need in our next match to qualify to the next stage of the tournament," he said.
Royals Olajide, Secretary of the Women Football Amateur Association (WAFA), said the team should improve its style of play to remain in the tournament. Olajide urged Coach Sunday Oliseh to work on the lapses in the team's defence. "They will get to the second round of the tournament but the players need to redouble their effort.
"Our attack is good but the defence needs to tighten up," he said.
Similarly some football fans in Ondo State urged the team to tighten its defence and improve on their scoring chances in the next match against Guinea. The fans also commended the Eagles 1-1 draw against Tunisia, saying that the Eagles' game was improving by the day.
They also commended the technical prowess of Coach Sunday Oliseh, appealing to football fans to support the team. Coach Samson Unuanel of Sunshine Stars FC of Akure said that the team put up a fighting spirit.
"I think the Eagles' game is improving by the day, they only need to be tutored on some lapses in the defence and scoring chances,'' he said. Wahab Bankole, spokesman for the Sunshine Stars FC of Akure, also said the Eagles should be commended, adding that they needed concentration to win their next match.
"I think they have performed well, they only need concentration to be victorious in subsequent matches," Bankole said.
NAN reports that the Eagles, with four points, would play against Guinea on February 26.