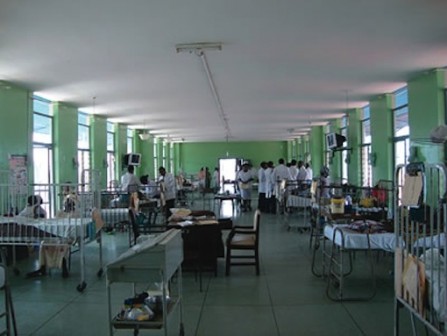 Okafor Ofiebor/Port Harcourt
The Rivers State branch of the Nigerian Medical Association (NMA) in conjunction with the Civil Liberties Organization (CLO) Monday staged a peaceful protest in Port Harcourt, the Rivers State Capital, over the incessant kidnapping of doctors in the state.
The doctors who carried placards with varying inscriptions and many of them wearing laboratory coats and carrying stethoscope, said that as at the last count, 21 medical doctors practising in Rivers State had been kidnapped.
Eleven of them were kidnapped within the last 25 days, while one of them died in hands of abductors, while others were nursing injuries.
Explaining to journalists on the sidelines of the protest, Dr. Ibitorukuemi Kurubo, former Chairman, Nigerian Medical Association, NMA, said the protest is to tell security agencies in the state to be alive to their responsibility of protecting life and property, especially the lives of the doctors.
"When people are sick or when we want to take deliveries of babies we don't call security agencies to do it for us. For instance, Lassa Fever issue is on. We are confronting it. Two doctors have died in the process, that is our job. We are trained to do it and we must treat patients no matter how deadly the diseases are because that is our job. Security agencies in the state must rise up and do their job.
"The peaceful protest today is to send a clear warning that if there is anymore kidnap of doctors in the state, NMA will take a far reaching decision," Kurubo said.
The doctors marched to the Police Headquarters on Moscow road where they were addressed by the Commissioner of Police, Musa Kimo, who assured them that the command was doing all it could to match the kidnappers in their own game.
Kimo, who sympathized with the doctors over the death of one of their colleagues in the hands of kidnappers, assured that efforts would be made to protect them and other citizens in the state.
Two weeks ago, two Doctors: Dr Isaac Opurum and Dr Ibufuro Apriokor were kidnapped within 48 hours.They were later released.
Another Medical doctor was shot last week in his Consulting Room in a private hospital in D-Line axis of Port Harcourt by gunmen suspected to be kidnappers who disguised as patients.
After the failed kidnap,the gunmen shot the Doctor in the abdomen and fled.