Cyriacus Izuekwe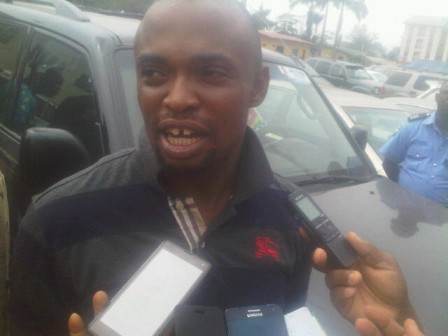 An automobile dealer, Osas Felix Bright, has confessed that he buys stolen vehicles from robbers and gave one of such SUVs to a pastor to pray for his barren wife to conceive in Lagos State, western Nigeria.
Bright was arrested along with the pastor, Titus Onwuchekwa who received the stolen SUV as gift.
Bright made the confession when they were paraded by the State Commissioner of Police, Fatai Owoseni last week.
The police also recovered 18 stolen vehicles of various brands from the suspects.
Delta Stat- born Bright also revealed that he did not tell his wife that he was buying stolen vehicles from robbers.
He explained that she only knew him as a genuine auto dealer at Berger.
"My wife does not know that I buy stolen vehicles. She got to know after I was arrested," Bright said.
Bright also confessed that he knew that suppliers of the recovered vehicles were car snatchers because he buys the SUVs at give-away prices.
Pastor Titus Onwuchekwa of the Presbyterian Church, Umuahia in Abia State, was arrested along with other suspects, Bola Salami, 30, Opeyemi Aregbesola, 28, Chibuike Umeh, 22, and Ndibe Samuel by the Lagos State Commissioner of Police, Fatai Owoseni.
Bright said that Pastor Onwuchekwa did not know that the SUV he gave to him was stolen, but he committed himself when he contacted him again and was demanding to buy another car (Toyota Camry) for N250,000.
He said unknown to Onwuchekwa, he (Bright) was already in police custody, adding that it was when the pastor came to Lagos to buy the Toyota Camry he was also arrested.
Onwuchekwa said that he did not know that the SUV was stolen.
He said when he contacted Bright and informed him that he was a pastor, he was elated and informed him that he was sowing a seed with the SUV.
He said he only paid him N350,000 and he prayed for him and his wife became pregnant.
According to CP Owoseni, the police recovered an unregistered Toyota 4 Runner SUV, Toyota Camry with registration number, AAA 391 AA, Toyota Camry with number, FKJ 441 DV, Lexus Rx30 with number LSR 520 RF, Toyota Highlander SUV with number LSR 492 DX and Mitsubishi Pajero SUV with number SMK 484 DS.
Other suspected criminals paraded by CP Oweseni made confessed committing crimes such as kidnapping, fraud, robbery among others.