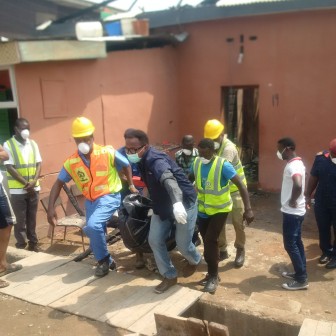 The Lagos State chapter of the All Progressives Congress has thrown its weight behind Governor Ambode's resolve to rid Lagos of gangs and cults. The party urges Lagosians to desist from forming dangerous gangs and engaging in cult activities that constitute impediments to the normal lives and activities of Lagosians, saying the present state government is determined to take drastic action against cultists and gangsters that operate in every nook and cranny of the state.
In a statement in Lagos, signed by the Lagos State Publicity Secretary of the APC, Joe Igbokwe, the party said the primitive acts like gang wars and cultism disrupt the normal lives of law abiding citizens and constitute dangerous nuisance that are not at sync with the new Lagos that has become a modern mega city where citizens and indeed all Nigerians are to engage in lawful, productive activities unhindered and unmolested.
The party said the present government is determined to root out gangs and cultists, warning their members and intending members to desist from such dark activities or face the wrath of the law.
According to the party, "it is strange that in the present situation where we should all be coordinating efforts to advance the ends of development and progress in the state and the country in general, some people find succour in patronising dangerous gangs and secret cults with a mission to constitute unnecessary risks and impediments to others. We see this as not only strange but queer and borne out of the most primitive feeling of insecurity arising from failure.
"Most confounding is that these gangs and cult groups, serving primordial interests have sworn to target the lives, properties and activities of law abiding citizens for destruction. This is unacceptable to the state as it is unacceptable to the tenets of freedom and equality which modern societies operate on.
"It is our belief that no group of people has the right to take lives of other citizens or inflict harm on others or damage others' properties or restrict others' movement in the name of cultism or gangsterism. It is also our belief that no group can run a parallel government in a bid to promote dark and hideous interests so it is time all manner of cultism and gangsterism are forcefully suppressed before the situation gets put of hand. It is our belief that no responsible government will watch unconcerned as gangsters and cultists liberalise lawlessness and unruliness and this us why we laud the Ambode government in this present bid to rid Lagos of cultists."
The party also noted that "we see the rising incidences of gang clashes in Lagos as dangerous if allowed to continue and we believe the present state government is poised to deal with this nuisance. We see the embrace of gangsterism and cultism as a cowardly admittance of failure and we are of the firm belief that Lagosians should shun this evil vice as it bodes ill for both the perpetrators and the victims. We believe that no responsible government will watch some groups of people abridge the lives and rights of others in a free society so we firmly support the determination of the Akinwumi Ambode administration to tackle violent gang wars and cultism with all seriousness involved.
"We therefore warn parents and guardians to monitor the lives and activities of their children and wards as well as those of their family members. We urge Lagosians to be watchful and report any person that belongs to cults and dangerous gangs to security agencies to ensure prompt action. We urge the good people of Lagos to report incidences that constitute risks and dangers to their normal activities and lives to security agencies who have been mandated by the state government to track down cultists and gangsters to ensure the state is rid of this menace and made safe for all Lagosians."