Paul Iyoghojie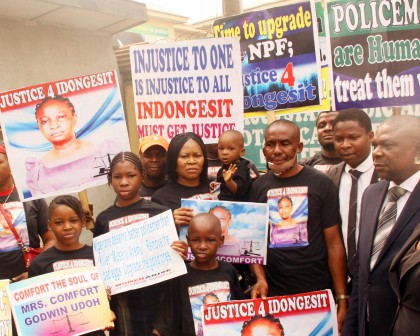 A 28-year-old Police Corporal Museliu Aremu, alleged to have killed a mother of four, Comfort Idongesit Godwin Udoh, on 16 September, 2015, is to be arraigned for attempted murder and murder before the Lagos State High Court.
Investigation by the operatives of the State Criminal Investigation Department (SCID) Panti, Yaba, Lagos revealed that Aremu allegedly killed the mother of four over the refusal of her husband, Godwin Udoh, a commercial tricycle operator, to give bribe to Aremu and his Colleagues attached to the Isheri Osun Police Station,
The policemen had mounted an illegal road block that fateful night when the incident happened.
The defendant was earlier arraigned before a Lagos magistrates' court at Ebute Meta and was ordered remanded in prison custody pending the advice from the office of the Directorate of Public Prosecution, DPP.
At the resumed hearing of the case before Chief Magistrate Mrs. A.F.O Botoku, on Wednesday, the prosecutor, Godwin Osuyi, informed the court that all is now set for the defendant to face trial at the high court over the murder allegations.
Osuyi told the court that the much awaited DPP's advice has been released and that the DPP's advice indicted Aremu and recommended him for trial.
The DPP's advise before the Court asserted that the accused be prosecuted for attempted murder and murder contrary to Sec 228 and 221 of the Criminal Law of Lagos State.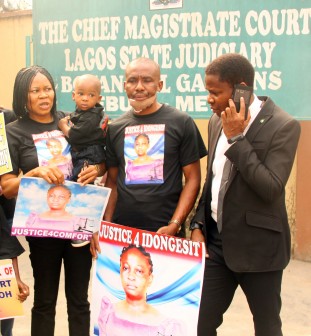 Magistrate Botoku adjourned the matter till 7 March, 2016 for proper arraignment of the accused.
The alleged trigger-happy Aremu was not in court at Wednesday's resumed hearing and Magistrate Botoku adjourned the case for mentioning.
During Wednesday's hearing, human rights group, Women Arise for Change led by Joe Okey-Odumakin stormed the court in solidarity with the victims whose case the group has been pursuing since last year to obtain justice for the family of the deceased woman.
Odumakin said she led a solemn assembly to the Magistrate Court, Botanical Garden, Ebute Meta, Lagos to demand for a speedy trial that will bring Corporal Aremu act to book in order to serve as deterrent to others.
Legal representatives from the Legal Aid Council (Barr Doris Ememonu Mrs), Women Arise for Change(Barr Christian Love), and Akwa Ibom Community (Barr Silas Udoh) were present in court on Wednesday to represent the complainants and watch the brief.