Eromosele Ebhomele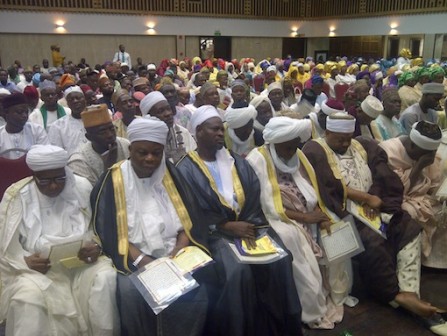 The Iyalode of Lagos and President of Fatima Charity Foundation, Hajia Bintu-Fatima Tinubu, has promised that her foundation would continue to pray for the country and its leaders because only God can rescue Nigeria.
Making the statement at this years prayer for the country organised by the foundation, Hajia Tinubu said she was sure most Nigerians also desire a country to see it grow and develop.
"We all have different ideas and ideologies as to how this can be achieved, but locked in the common belief that good leadership forms an integral part of the process. We want to see Nigeria develop, prosper and re-affirm itself as the pride of Africa.
She noted that the country is currently enveloped in various challenges, but said it was inspiring that despite these challenges and growing anxiety over the country's future, its citizens have refused to succumb to despair.
"Nigeria, after 55 years as an independent state, seems not to have achieved a lot despite its huge human capital and natural resources.
"Nigerians are now growing impatient, the level of poverty is at an all-time high, a disturbing rise in ethnic nationalism and religious bigorty, which has fuelled social tension and distrust among the citizenry.
"All over the country, daily breach of security resulting in loss of lives and properties has become prevalent. Armed robbery, kidnappings and human trafficking continue to ravage many parts of the country. A land endowed with so much wealth and beauty, yet its people experiencing so much hardship," she said while addressing the guests at the event held in Lagos.
"While we take stock of all that has gone wrong, we need to realise that leadership starts with each and every one of us.
"The onus is on us to play our part, we must make effort to try to rebuild our broken down value system, re-establish and clearly define our moral obligations to our families and the nation, as well as making positive contributions in fulfilling our quota to the development of our great country," she added.
She stressed that the first step toward achieving this is through divine intervention that comes with prayers which she said: "shows that we don't have the answers but God does.
The prayer session was held by Muslim faithful at the event which had top politicians in Lagos, businessmen and traditional rulers in attendance.

Load more