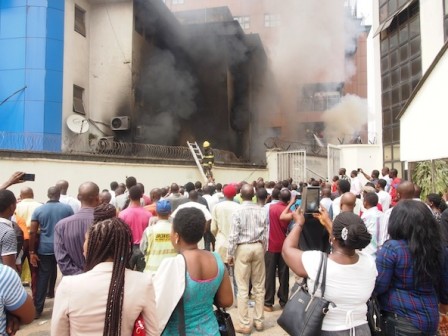 Fire on Thursday evening gutted an MRS filling station and two buildings in Lawanson, SuruLere Local Government Area, Lagos.
The fire destroyed two houses and few shops before the arrival of men of the Lagos State Fire Service.
One of the houses, a storey building beside the filling station, was completely burnt down.
Mr Johnson Okorie, a phone operator in the area, told NAN that the tanker was discharging petrol in the filling station around 5p.m when it exploded and started the fire.
"On hearing the sound of the explosion, everybody ran for their life, leaving what they were selling.
"I was attending to a customer then but I did not know how the man disappeared till this moment.
"Thank God that the state Fire Service and other security agencies responded to distress calls by the people; the fire would have destroyed more houses," he said.
Mrs Falilat Kareem, a bread seller opposite the station lamented that all she had in stock were destroyed by the fire.
Kareem thanked God because she escaped being injured as she was sleeping inside the shop when the fire started.
NAN reports that fire fighters were seen at the scene battling to put out the fire as at 6:30 p.m.
NAN learnt that no life was lost in the incident.