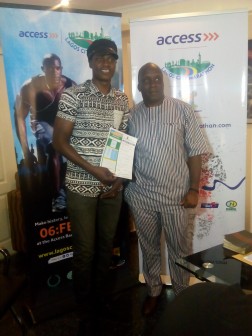 Foremost Nigeria Hip Hop artist Fasasi Olarenwaju a.k.a. Sound Sultan has joined the list of top Nigerian celebrities who have signified their interest to participate in the 6 February Access Bank Lagos City Marathon race.
Sound Sultan and some of his crew members, Harding Olumide (Karma) and Binfa Simon, were at the Lagos Marathon office at the Teslim Balogun Stadium on Friday to complete their registration formalities even as organisers announced a general extension of the deadline for registration.
The deadline for registration which was formerly Thursday, 28 January has now been moved forward by a week to February 4 to accommodate many more interested participants across the world to sign-on.
Speaking ahead of the Access Bank Lagos City Marathon race, Sound Sultan commended the Lagos State Government and their partners for the worthy investment in ventures quite beneficial to the youths, via entertainment and sports among others.
The multi-award winning star confirmed his willingness to take part in the race and also enjoined others yet to register to make the most of the extended period to get on board.
"I think, this is another good one coming from the Lagos State government as well as all their partners. I am happy with the idea of showcasing our city to the world with a marathon," Sound Sultan said.
Chairman of Lagos State Sports Commission and head of the organising committee for the Access Bank Lagos City Marathon, Deji Tinubu thanked Sound Sultan and his crew for coming by.
Tinubu expressed delight at the wide reception the Lagos marathon is garnering, adding that everything was being done to ensure that the race turns out a huge success.