Dolapo Opeyemi Badmos, a Superintendent of Police (SP) who was recently appointed as the new Police Public Relations Officer (PPRO) of Lagos State Police Command, spoke exclusively to our correspondents, Cyriacus Izuekwe and Yusuf Mohammed, on how she joined the Police Force, the One Million Boys Robbery Gang, police plans and achievements on security and declared that criminals have no hiding place in Lagos State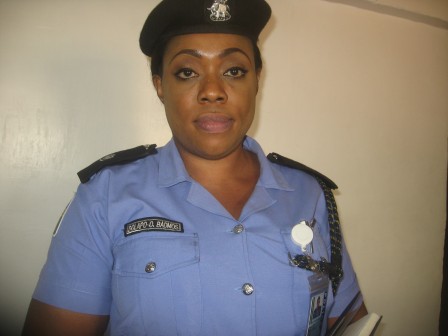 Could you tell us more about yourself?
My name is Dolapo Opeyemi Badmos, a Superintendent of Police. I am also the Police Public Relations Officer, PPRO, of Lagos State Command. I had also served in various capacities before I was posted to Lagos as PPRO. I joined the Force on 15 August, 2002, as an Assistant Superintendent of Police (Course 21 batch) trained at Police Academy, Wudil, Kano, and I am a graduate of Accounting and also a post-graduate degree holder in Public Administration.
You have been in the Police Force for several years now. How has it been all these years?
For each and every one that has attained high height or higher heights in their place of work, it is a mixed feeling, but by the grace of God, I have been able to surmount the challenges I have faced in the Force. This is my 14th year on the job. What I will just say is that all along it has been very challenging in the sense that police job is tasking. But I have overcome the challenges and moved on by the grace of God.
How do you mean?
The only reason I think I am overcoming the challenges is that I have passion for my job; and whatever you are doing, you must have passion for it and whatever challenges you are having, will come like a burden for you and you have to overcome them.
Were you lured into police or did you join out of your own volition?
I did not consciously join Police Force. I had never wanted to be a police officer, but I would like to say that my uncle, Bodunde Adeyanju, wanted to be a police officer when he graduated from the university but he did not have the opportunity. He was the one that talked to me to join the Police Force. Looking back now, I have no regrets. My parents had some kind of reservations too but right now looking back I would say I am happy in the sense that I had wanted to be a medical doctor and you will ask me why I want to be a medical doctor: I wanted to have an opportunity to save lives and when people are in distress and they need help I can offer and you will agree with me that being a Police Officer is another form of being a saver of lives and for the fact that I am having the opportunity to achieve my dream I think it is a good thing for me.
As the spokesperson for Lagos State Police command and even the Police Force in general, please tell us your plans for us in Lagos State?
Okay, let me first say that if you are asking me that I am the spokesperson in Police in general, I must say we have the Force PRO in Abuja who is also a mentor, sister and she is Assistant Commissioner of Police ACP, she is the one in charge of all the Force PRO. I am PPRO, Lagos State Command and I speak on behalf of the Lagos State command. However, in case you might not be able to reach the Force PRO immediately and you are in Lagos zone, you might want to confirm certain facts immediately, that I can chip in one or two things on the facts available. As the PPRO and the things that I want you people to expect from me is to see me as someone who will bridge the gap between the members of the public and the Nigerian Police Force. I take the feedback from the community, from the public and then I give that back into police system and while I take also from the Police to the public. So, I am in-between the two. I want you to know that I am not serving the police alone, I am also serving members of the public.
Considering Lagos State as a metropolitan state that all manner of things are happening including crimes, how are the police going to curb the menace?
The police have been performing their lawful duties in preventing crimes and protecting the citizens through the effort of the Commissioner of Police, CP Fatai Owoseni and the Lagos State government to drastically reduce crime in the state.
About two weeks ago, the executive Governor of Lagos State, Mr. Akinwunmi Ambode was having a town hall meeting where he said crime in Lagos has been reduced by 65% and I agree with him. The other issue, how do we stop crime in the metropolitan State of Lagos? Yes, in a metropolitan state in Nigeria, in fact the whole world, you can only reduce crimes to its barest minimum. As long as there are human beings living in the society, there must be crime, but in our own way how do we want to reduce crime and criminality to the barest minimum? The Lagos State commissioner of police who is grounded in operational strategies, because we need operation officers to combat crimes, has set out a lot of what we call operational strategies, which I will not tell you, on how to combat crime and you will agree with me that the Lagos State government has also committed a lot in terms of logistics to fight criminals in the state. All these have contributed immensely to the reduction of crimes in the state. In fact, criminals have no hiding place in the state and the police will continue to fish them out and prosecute them.
Do you mean that crime has reduced in Lagos State?
Yes, during the Christmas and New Year, you could see that crime was fought to a standstill. We were able to go shopping, we were able to enjoy and we didn't recall serious cases of crimes committed against the people during that festive period. Above it all, we are embarking on organizing training to make our men conform to modern day policing so as to be able to combat any form of criminality that is coming up due to the cosmopolitan nature of Lagos. So criminals now find it difficult to operate in Lagos State.
How do you manage information through the public?
Management of information generally, to me, I don't want to agree it is just a one-way thing and you don't cover the truth because that is my aim, not to cover the truth, you can only manage what has happened. If there is any information that is needed to be disseminated to members of the public, we are going to bring it out and also receive information or feedback from the public with absolute confidentiality. The social media, although it has some disadvantages, is really helping to manage information, serve people and get feedbacks via facebook, twitter, instagram, phone calls, whatsapp messages. So we are able to communicate with people through those channels, that's how we are managing in terms of feedbacks and in giving to members of the public. We will not hide whatever that has happened and whatever the police have done that is good, we will make known to the public. The only area where I am having challenge is that people sometimes disseminate lies and then they send it through social media and people just agree without investigating. An example is that of one million boys robbers in Badagry area. The way and manner the social media is blowing it, it is alarming, but when you get there, you will see people drinking and they will have quarrel over buying drinks and they will start fighting one another. And the next thing you will see in social media is one million gang has taken over Ojo or Badagry and we will send security personnel there, only what we will get from our security apparatus as feedback will be that only two people were having a fight over drinks after they were drunk. These are the kind of things that the public will be accusing us of not providing adequate security which is false.
But those Areas like Ojo and Badagry, residents organize themselves at night to guard the areas because of criminals, what is your take on that?
That's what they said, we are still having issues and we are not against it. In fact, it gives us joy that a community will stand up and say we want to protect ourselves because that is where we could have taken up. We had voluntary policing sector when I was DPO in Agege area. We used voluntary policing sector, you know why, because this is their own people, they know even the house where criminals are being bred. If nobody gives a policeman or may be the DPO any information, he will not act and whereby he is posted to Lagos and found himself as DPO of Badagry, how does he know who is the criminal? It is the residents that will give police information on criminals' hideout.
The Police Force is perceived as a corrupt institution. What efforts are the police authorities making to change that bad image?
Thank God you used the word 'perception'. Perception is all about opinion. If you ask another person, they would say some journalists are corrupt. Do you understand? Yes, from every twelve disciples, there must be a Judas but does that make the rest useless? No. Does that mean the eleven remaining are not human beings? So it is with the Police system. But do not forget that police is a reflection of the society. In the news about two weeks ago, I heard about some policemen in UK being under investigation because of corrupt tendencies. So what I am saying is that when you ask people, they would say police is not good, so I ask them to please give me an example of what you have gone through in the hands of the police that is forming your opinion. You will discover, it is what the police have done to somebody, not what we have done to them. However, the police are not sparing any officer found wanting whether in conduct, character and any other behavior that are not in line with the rules of any engagement.
Very soon, the perception will change, you will hardly find a police officer that behaves anyhow because we are putting a lot of things in place to checkmate what people may tag 'corruption'. Corruption is not all about money alone, some newspapers will go and publish what is not true just for the purpose of selling and it is not right and that is another aspect of corruption.
So corruption is not focused on money alone, even your attitude might be corrupt. What you say out of your mouth might be corrupt. So what the management of Police is doing under the office of the Inspector General of Police is what we call reformation. On the job training is going on. We are training our men to conform to international standard and that is why we follow the trend of the day. There must be accountability. If you do anything against the ethics of the organization, they hold you responsible. And police are not only going to dismiss you if you commit a 'dismissable' offence. When the police dismiss you, they will charge you to court to ensure prosecution. So, it is no more business as usual. But as we are changing the police, then we want the society themselves to also think about change because it is the society that is also corrupting the police by offering them gratification for committing offences that are punishable under the law to escape justice. It should also be discouraged.
What are the police doing to curb the activities of cults in the state?
The activities of cultism have been dealt with owing to the steps the Lagos State Commissioner of police, CP Owoseni took when he resumed as CP Lagos Command. The first step he took was to summon the leaders of transport unions and told them that he does not want the activities of touts in the state and warned them that any of their members who constitutes security risk will be dealt with. You see, most of the cult groups are those fighting for supremacy in their areas of operation.
The CP was able to curtail them and their operation became insignificant in the state. Those springing up are being squarely dealt with. For instance, the recent attack at Bariga area where a house was burnt and an old woman was murdered, the police went into action and arrested the perpetrators and they were recently paraded and will be prosecuted to show you that the police are equal to the task to curb any incident of crime in the state including cultism.
What about the issue of extra-judicial killings involving the police?
There is no such incident if at all it happened in the past. What the police are doing is that once a culprit is arrested, he will be subsequently charged to court and face prosecution.