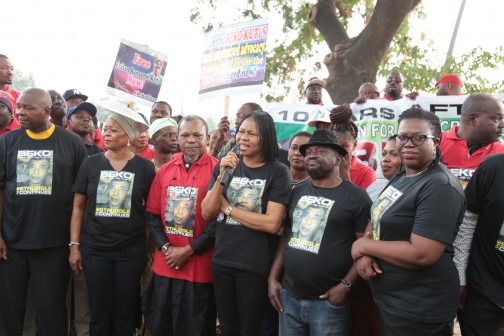 The Campaign for Democracy & Women Arise on Wednesday marked the 10th anniversary of the passing away of the uncompromising icon of resistance to bad governance and an apostle of good governance Dr. Beko Ransome-Kuti.
Human rights community, road transport union, students, market women, professionals gathered at Beko Ransome-Kuti cenotaph to pay tributes and lay wreath to mark the 10th anniversary of the exit of their ultimate icon.
During the solemn event, President Campaign for Democracy & Women Arise Women Arise for Change, Dr. Joe Okei-Odumakin's said Dr. Beko Ransome-Kuti devoted most of his adult life to the struggle for a better Nigeria based on equity, justice, fairness and rule of law.
According to Okei-Odumakin, "for his non-conformity with evil, he was hounded, detained and imprisoned on false charges by both military and civilian authorities.
"Yet, his defiant spirit was not subdued as he kept on the banner of freedom, liberty and a just and democratic order. Ten years after the exit of this giant, the Nigerian political landscape still remains far from the ideals he lived and died for. Our polity still remains largely unsettled, while greed and all kinds of vices make progress a mirage.
"In the last years of his life, Dr. Beko Ransome-Kuti was actively devoted to the struggle for a Sovereign National Conference to re-order Nigeria and make it a democratic community based on true federalism. Today, we are yet to achieve that in the face of near-collapse of Nigeria under the weight of bureaucratic centralism and the near-end of oil economy.
"For Nigeria to make progress, we must go back to those issues Beko and fellow compatriots put on the front burner and address them squarely so that Nigeria can take its pride of place in the comity of great nations."
In his remarks, Mohammed Fawehinmi reiterated what Okei-Odumakin said and advised Nigerians to be selfless like the late Beko Ransome-Kuti.
Mrs. Ganiyat Fawehinmi, Gani's widow, advised Nigerians to be patient with President Muhammadu Buhari as it will take him sometime to right the wrongs of 16 years of PDP misrule.
Also speaking, Comrade Femi Aborisade insisted that leaders must not go abroad for medical checkup but ensure that the nation's health sector functions.
In his remarks, Comrade Ayodele Akele advised that Nigerians must emulate all the ideals that Beko lived and died for.
Leading human rights activist, Mrs. Ayo Obe said 10 years ago seemed as if Beko just departed yesterday.
Prince Obi Goodluck advised citizens to support the fight against terror.
Chairman of NADECO, Ndubisi Kanu said Nigeria must go back to true federalism for the country to move forward.
Mrs. Abosede Ransome-Kuti Beko's widow thanked all that were present for keeping Beko's memory alive.

Load more