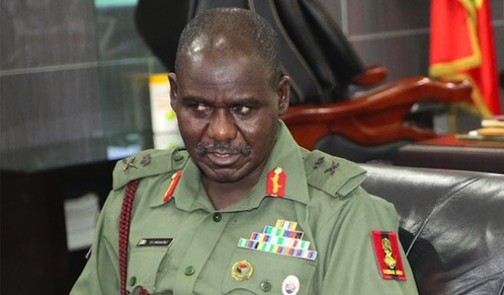 The Nigerian Army has denied reports that the convoy of Chief of Army Staff, Lieutenant General Tukur Buratai was blocked by some protesters.
In a statement, Colonel Sani Kukasheka Usman, the Acting Director Army Public Relations, said "the Nigerian Army has noted with dismay the campaign of calumny embarked by some individuals obviously sponsored by some faceless unscrupulous elements in the social media."
Usman stated that "one of such is a story on the obscure but scandalous Newsrescue.com, which alleged that the Chief of Army Staff's convoy was blocked yesterday in Abuja by a Christian organization.
"This is not true and is also a figment of the imagination of the persons behind the brazen lies.
"For the avoidance of doubt, the Chief of Army Staff has not stepped out of military environment from Friday, 12th February till this morning, Monday 15th February 2016, let alone having such imaginary blockade.
"From the foregoing, it is very clear that whoever is behind the fabricated story is an enemy of peace and was not only determined to tarnish the good name and reputation of the Chief of Army Staff, but wanted religious war in this country.
"Consequently, the public are hereby informed that the alleged blockade story is not true, as it had never occurred.
"We also wish to inform Newsrescue.com to as a matter of urgency to refute the story immediately on its website. They should also tender an unreserved apology to the public and the Chief of Army Staff in 5 national dailies latest by tomorrow morning. Failure to do so will lead to legal action against the medium."