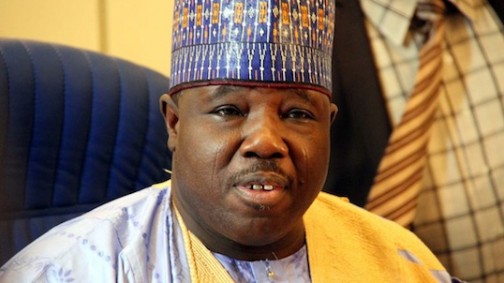 Senator Ali Modu Sheriff, former governor of Borno state on Monday denied reports that he is planning to switch to the All Progressives Congress (APC).
He also denied that he is one of the sponsors of Boko Haram insurgent group.
"It should be noted that Senator Modu Sheriff had remained a member of ANPP through thick and thin, good times and bad times, and never had to jump ship to another party despite pressure from political associates to do so. Senator Modu Sheriff is a believer in building up party structures from the scratch and is an avid grassroots politician not fazed by the short term gains or advantages prevalent in party politics," a statement by his media office read.
"Senator Modu Sheriff's decision to join Peoples Democratic Party (PDP) was well thought out and a personal decision which was taken without external influences nor considerations of pecuniary interests but rather by the emergence of a strange kind of gang-up and sycophancy that presented itself in APC at that time.
"Let it be known that His Excellency Senator Modu Sheriff is a PDP stalwart and has no intention to leave PDP. In fact he is at peace in PDP and will do his utmost, along with other PDP chieftains, within limits acceptable by law and PDP's constitution and regulations, to reposition PDP for greater service to Nigerians.
"It is pertinent to note that Senator Modu Sheriff garnered enviable record of achievements and accomplishments as the Executive Governor of Borno State which bears testimony to his sound leadership qualities and administrative competence.
"Notwithstanding the profound physical and social development and transformation of Borno State during his tenure as Executive Governor, Senator Modu Sheriff left a credit balance of more than N65 Billion in the coffers of Borno State at the time he handed over to his successor.
"For the records, Senator Modu Sheriff is not a sponsor of Boko Haram, and has never been cited or investigated for any such allegation as suggested by those unstable political hatchet men and their brown-envelop collaborators pretending to be journalists. It is not lost on Nigerians and indeed the good people of Borno State who the sponsors and kingpins of Boko Haram are, nobody is fooled by their antics of sponsoring false and wicked publications against innocent citizens.
"The authors of the mischievous article are merely recycling false and wicked information based on propaganda materials bandied around by infantile political jobbers and mercenaries with the intention of tainting the person of Senator Modu Sheriff and bring him to their despicable and ignoble level of engagement. They are afraid of their shadows and will continue to run even when nothing and nobody are chasing them but their own evil deeds.
"Modu Sheriff is a strong believer in "politics without bitterness", and has always counseled that even in the interplay of politics and political contests there should be decorum and sense of dignity amongst gladiators. Politicians must know and should always remember that the ultimate goal is to develop Nigeria and improve the welfare of the citizenry.
"For those that have conscience, we leave them to their conscience but for the unfortunate jackals of Nigerian politics, whose souls have been sold to the devil for pots of pottage, be assured that your treachery and wickedness will find you out and your evil deeds exposed.
"Senator Modu Sheriff will not bother to respond to any such other false, wicked and desperate hatchet jobs."