Taiwo Adelu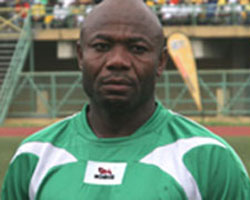 Chairman of the Technical Committee of Nigeria Football Federation, NFF, Barrister Chris Green has said that the future remains bright for the newly appointed coach of the U-20 Flying Eagles, Emmanuel Amuneke to become the Chief Coach of the senior national team, the Super Eagles.
The NFF Executive Committee on Tuesday ratifed the recommendation of Green-led Technical Committee to appoint Amuneke, who won the last FIFA U-17 World Cup for Nigeria in Chile 2015, as the coach of the Flying Eagles.
Green said that with the success being recorded by 45-year-old Amuneke and if by providence he continues in delivering for the country in future assignments, he can be recommended to take up the coaching job of the Super Eagles in the nearest future.
The major task in sight for Amuneke now is to qualify Nigeria for the FIFA U-20 World Cup in South Korea in 2017 and according to Green, if he could do that and eventually goes ahead to win the tournament, which is possible, he would have a good record that will give him the chance of coaching Eagles.
"If Amuneke performs very well in his new assignment and delievers the U-20 World Cup for us, I believe everybody will want him to handle the senior team. It is a possibility that we cannot ignore," he said.
According to Green, the current coach of the Super Eagles, Sunday Oliseh, is still in charge of the team as long as he delivers on his job. But if he fails, he may be asked to go.
"For Oliseh, if he continues to do well, he remains. If not he will go," Green said.

Load more