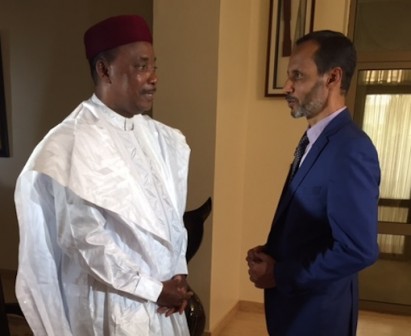 Yesterday, polls closed in Niger, where, in the second election after the 2010 military coup, sitting president, Mahamadou Issoufou is intent on winning a second term.
Speaking to Al Jazeera's Mohamed Vall, Issoufou outlined how he saw his legacy. "People often say that our countries don't need powerful men but powerful institutions, so I would like history to remember that I put in place an irreversible democratic system, irreversible! I also want history to remember that at a time when a majority of the Sahel countries are confronted with terrorism threats and have lost their security, we, in this ocean of threats, knew how to maintain peace and security. I would like history to remember there was no famine under my presidency and finally I want history to remember I took care of the problems of the poorest: health, water access, unemployment, and housing. This is what I want history to remember of my time as the leader of Niger."
Calling Niger "one of the most democratic nations of Africa," he said, "The establishment of stable democratic institutions was a top priority of the 'Renaissance' programme I implemented over the past five years. There are two indicators that prove Niger is truly democratic: The first one is the freedom of the press. Reporters Without Borders ranks countries every year depending on press freedoms.
"In 2010 we were ranked 139th; today we are ranked 47th. This means we moved up 92 ranks according to them. The other indicator is the corruption index from Transparency International. In 2010, we ranked 134th; today we are ranked 99th. We improved by 35 ranks. These two indicators prove that we are on the right track, on the track of establishing strong and stable democratic institutions."
The landlocked country is confronting severe threats to its stability as a result of armed conflicts in the region. Boko Haram is in Nigeria to the southeast and other groups such as ISIL are in Mali and Libya in the north.
WATCH VIDEO:

The Nigeria conflict has already spilled over to Niger. Up to 130,000 have fled across the border. In the Diffa region, large areas are unstable, and more than 170 villages are deserted. "Two thirds of Mali were occupied by the jihadists. Fortunately we did not have the same situation in Niger," said Issoufou.
"We are confronted with humanitarian issues. We have refugees from Nigeria and Mali… but we are dealing with these humanitarian issues with our NGO partners. We face all of them. But today when you look at the situation in Diffa, we can say Boko Haram has been weakened and we are close to winning a lasting victory over Boko Haram."
He adds, "To face Boko Haram, we decided to rely on our own forces. This is why we are putting in place a mixed force made up of five nations: Cameroon, Chad, Nigeria, Niger and Benin. This mixed forced is almost operational. We are relying first on our own forces, on our own capacities, on shared operational capacities and on shared intelligence capacities. But this does not rule out that we can call on friendly countries, like France and the United States. Both already help us a lot, especially in the intelligence sector."
There is also concern that ISIL fighters are potentially moving into Niger to escape renewed Western military action in Libya. President Issoufou believes that a foreign intervention in Libya is a must. "We must urgently put in place a central government in Libya… But I'm not deceiving myself here. I'm under no illusion. Even if put in place, this government won't be able to face the terrorist threat by itself. It won't be able to neutralize the militias alone. So a future government of national union put in place in Libya must be backed by an international force."
Issoufou was against the first intervention in Libya but denies there's a contradiction in supporting one now. "In 2011, I clearly said that the intervention would lead to a situation worse than the wrong we were trying to heal. I said that if a number of safeguards were not taken, Libya would become a new Somalia. The other risk I emphasised was the risk that Libya would be occupied by terrorists. Today we are in both situations; Libya is like Somalia now with no central state, several governments and militias sharing the territory.
"All the fears I pointed out became true in Libya. If I say that due to the current situation we need an intervention, this is not a contradiction, because after the fall of Gaddafi there was no 'after-sale service.' And this 'after-sale service' is exactly what I want in Libya today. The 'after-sale service' can only happen as an intervention aimed at accompanying a national union government in Libya. There are cases where interventions are a good thing, and others where they should not be done."