Funsho Arogundade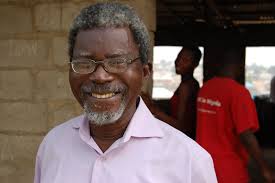 Veteran actor and dramatist, Joseph Abiodun Babatunde Adu, popularly known as Jab Adu, is dead.
A source close to the foremost thespian said he passed on in his Abeokuta, Ogun State home early Sunday morning.
He was aged 83.
While the details of his demise still remain sketchy, the source said the man renowned for his role as 'Bassey Okon' in the popular Nigerian Television Authority, NTA, drama series titled 'The Village Headmaster', has been contending with minor illness associated with old age.
Trained as a professional banker before settling for acting, the late Jab Adu had an illustrious career on stage, television and film.
An abridged version of the biography of the deceased written by Adegboyega Arulogun state that Jab Adu started his adult life as a banker with the Central Bank of Nigeria.
While with the apex bank, he squeezed out time to participate as an actor and writer in the popular Village Headmaster, in which he played the role of Bassey Okon, the doctor, dispenser and pharmacist of Oja village.
The deceased was born in Calabar, Cross River State, thus so easy for him to play the role of an Efik in the junction town of Oja.
He left banking in 1970 and went into full acting, writing and production.
He was more renowned in acting but his creative pedigree transcended not just acting that he was very well known for on the screen.
He was a film producer whose production credits include "Bisi, Daughter of the River" and "Adio's Family", a series he co-produced with NTA.
Jab Adu wrote, co-produced and directed the full length film — 'Bisi, Daughter of the River', a film that was one of the pioneering efforts that followed "Kongi's Harvest" and "Things Fall Apart."
Based upon the Yoruba legend of Olurombi and shot on 35min on celluloid on location both in Lagos and Badagry, the film threw a challenge to the American and Indian films in the Nigerian cinema circuit because of its production quality and Nigerians' thirst to see their own people on the cinema screens in the theatres.
Bisi, Daughter of the River had a success story in the cinema theatres.
One of the lessons of Bisi was that like 'Kongi's Harvest' and 'Things Fall Apart', the crew was both Nigerian and foreign film technicians — an avenue for learning by the local crew members.
Jab Adu, while alive, was a devotee of Grail Message Movement.

Load more