Cyriacus Izuekwe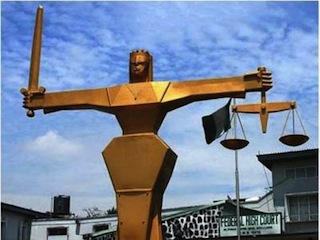 A 20-year-old youth has been arrested and charged before Magistrate's court sitting in Ejigbo for attempting to smuggle cigarette to a suspect in a police cell in Lagos State, western Nigeria.
The suspect, Isaac Elijah, was sentenced to 10 days community service or pay a fine of N10,000 after he pleaded guilty to the charge.
The incident happened on 24 February at the Igando police division where Elijah was arrested.
According to the police, Elijah went to police divisional headquarters at Igando with a loaf of bread to his friend, Emmanuel Sylvester, who was detained in the cell for alleged criminal offence.
Before Elijah went to the station, he sliced the bread and hid three sticks of cigarette and matches and covered it back in attempt to smuggle it to Sylvester in the cell.
When he got to the counter and presented the bread, he was asked to eat part of it before it could be given to Sylvester.
However, when the police officer further asked him to open the bread and he refused.
The policeman suspected foul play and forced him to open the bread. And, when he did, it was discovered that he had hidden cigarettes and matches inside it.
He was immediately arrested and charged to court with conduct likely to cause breach of public peace under the Criminal code.
When Elijah was arraigned, he pleaded guilty.
The prosecutor, Mr Femi Adeleye urged the court to sentence Elijah accordingly to serve as deterrent for those who might want to commit similar offence.
The presiding Magistrate, Mr A. A. Fashola sentenced him accordingly.
He has been cleaning the court premises for the offence he was convicted.

Load more