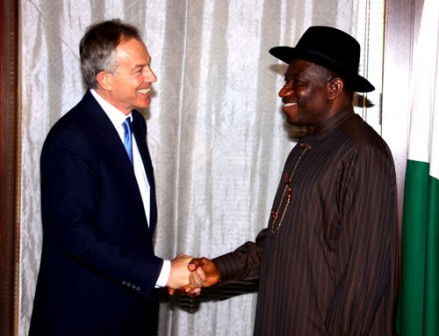 Tony Blair continues to come under the spotlight as more claims against him emerge from the explosive new biography by investigative journalist, Tom Bower.
The activities of the former Prime Minister of United Kingdom during the administration of Goodluck Jonathan, Nigeria's former president has been revealed.
According to Bower's book, Back in 2010, Mr Blair asked for a one-on-one meeting with the then Nigerian president, Goodluck Jonathan — ostensibly to offer the services of AGI and the Faith Foundation to help reconcile the country's Muslims and Christians.
Again, he was given an intelligence briefing by the British embassy in advance.
But having charmed the president and — in the words of Jonathan's staff — satisfied his ego, Blair then introduced him to J.P. Morgan chief Jamie Dimon.
The banker offered to manage Nigeria's sovereign wealth fund — and Jonathan agreed. No other bank in the world was asked to tender for this profitable work.
READ: REVEALED: How Buhari refused to buy drones from Tony Blair
From Nigeria, Blair flew with Dimon to Liberia, where he already had a charity AGI team in place to advise the president. The upshot? J.P. Morgan invested in a commercial project in Liberia.
How Blair Got Involved With JP Morgan
As soon as he left office – Blair was desperate to make millions. So Jonathan Powell, his former chief of staff, came to the rescue.
Setting up a meeting with a leading headhunter, Powell told him bluntly: 'Tony needs a job.
In turn, the headhunter, Martin Armstrong, had a chat with Blair's PR friend Matthew Freud, and together the men agreed that the headhunter should try the U.S. investment bank J.P. Morgan.
Armstrong's approach was fruitful. On July 11, 2007, the bank's chief executive met Blair at Freud's office in Mayfair, and offered him a seat on the J.P. Morgan board.
"You'd take over from George Shultz," said chief executive Jamie Dimon, referring to the ailing former U.S. Secretary of State. Blair's annual fee, he added, would be $100,000 — about £72,000.
But this failed to impress Blair. Bluntly, he told Dimon he wanted 'a proper job' and expected at least £3 million a year, a five-year contract as an adviser and a percentage of every contract he initiated.
If Dimon was taken aback, he didn't show it. Within weeks, he'd offered Blair almost all he wanted.
It was a good start — but there was one person involved who was less than thrilled: the headhunter.
To Armstrong's dismay, more than a year after helping Blair land his contract, he still hadn't been paid the customary introductory fee from the bank.
Perhaps Blair could help, he thought. His chance came when he spotted the former PM at a 40th birthday party for Freud's then wife Elisabeth Murdoch at her country estate in October 2008.
Approaching Blair, he introduced himself: 'I'm the guy who placed you with J.P. Morgan…'
"Good for you," replied Blair, and walked quickly away.
By then, he had more important matters to contend with — such as a new deal with Zurich Insurance to advise on climate change, for a salary of about £180,000 a year.
He'd also been retained as a paid adviser by Bernard Arnault, the head of a French luxury-goods conglomerate, whom he'd once entertained at Chequers.
His opportunities to make money seemed limitless…

Load more