Taiwo Adelu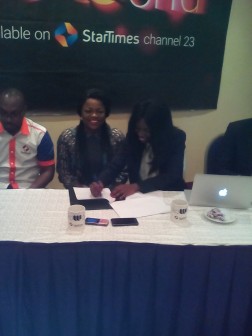 As part of its efforts to make considerable impact on Nigerian linear market, irokoWorld TV has unveiled Nigerian multi-award winning Nollywood star actress, Funke Akindele as its Brand Ambassador.
Speaking at the unveiling ceremony in Lagos, Head Legal and Distribution, Uloma Onuma said Akindele's rich credentials in Nigerian entertainment industry can add value to the quality service irokoWorld TV offers to Nigerians.
Onuma noted that choosing Akindele as a Brand Ambassador was part of rebranding packages to make irokoWorld TV a household name in Nigeria and taking Nollywood to everywhere.
"Akindele is not just an accomplished actress, but a lady of virtue that has become a major player in Nollywood," she said.
Akindele, before signing the partnership agreement, said that she felt so privileged, honoured and loved to be part of the big deal to make herself available for her fans on the platform of irokoWorld TV on StarTimes.
"Entertainment is my life and I'm so glad putting smiles on the faces of the people. irokoWorld TV will not go down.
"My fans should expect great movies from Funke Akindele with active collaboration with irokoWorld TV. Very soon, my reality TV show will debut on irokoWorld TV," she said.
Marketing Director of StarTimes, Dare Kafar, said that the deal with Akindele a.k.a. Jenifa is a partnership that will further prove that StarTimes is a leader in the pay TV industry.
Meanwhile, Onuma disclosed that iroko TV, which started in 2010 on YouTube has grown to become the home of Nollywood movies in Africa, telling African stories by Africans.
She said Iroko Play and Iroko Plus was launched in 2015 and have been on StarTimes since then.
"The reception was amazing as viewers demand to see more from us. This encouraged us to repackage and upgrade Iroko Play and Iroko Plus to irokoWorld TV this year. This has been a 24-hour TV on StartTimes Channel 23. We will come out with 250 quality Nollywood movies. We are the longest aggregator of Nollywood in the world and we'll ensure that we maintain the quality and high standard we are known for," Onuma said.

Load more