Jeff Ezemadu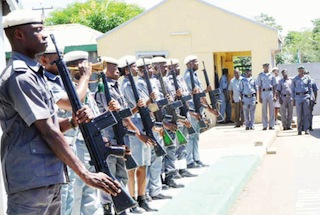 The men of the Nigeria Customs Service, Seme Command's strike force led by Mr. Fidelis Nwanze, a Chief Superintendent, at about 5 a.m. intercepted some armed robbers numbering over 20 in their speed boat on Benin Republic side.
According to our source who spoke on condition of anonymity, the men of the Customs were on their usual patrol when they sighted the robbers disembarking from their speed boat.
As they tried to confront them, the robbers opened fire which resulted in serious exchange of fire from both sides.
The superior fire power of the Customs saw the robbers run for their lives and abandon their arms and ammunition.
According to our source, the robbers abandoned several rifles, magazines and bullets they packed inside bottled water plastics.
Though men from Benin Republic Police came to assist the customs in pursuit of the robbers, no arrest was made.
Unconfirmed report said many of the robbers escaped with bullet wounds.
Following the incident, the Lagos State Commissioner of Police, Fatai Owoseni, was said have visited Seme border.
For the past one week, security has been beefed up between Badagry and Seme following a security report that armed robbers were planning to attack banks and bureau de change operators in the border towns.
This led to the closure of banks on Tuesday.