Okafor Ofiebor/Port Harcourt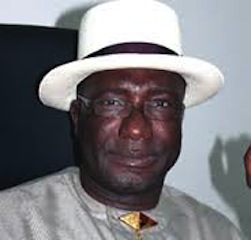 Federal security agents from Abuja have arrived Port Harcourt, the Rivers State capital, to arrest Felix Obuah, the state Chairman of Peoples Democratic Party, PDP, but Governor Nyesom Wike has said that the arrests of PDP stalwarts ahead of Saturday's rerun election would be resisted.
Wike said the arrests of some PDP Chieftains in state less than 48 hours to the election was a calculated attempt to give the All Progressives Congress, APC, undue advantage and that could create avoidable crisis in the state.
Governor Wike, who was on a live radio station Thursday morning, said: "A whole Chairman of a party you send people from Abuja to come and arrest him and you say we should fold our hands? When you push people to the wall they will resist because they will say enough is enough and what leads to revolution."
On the deployment of the soldiers and statement by President Muhammadu Buhari that the security agencies have been direct to deal decisively with sponsors of violence in the state, the Governor said he would not comment on that.
He said "As the Chief Security Officer of the state, I was not consulted but they have assured of tight security. As a state I have given them necessary support."
However, in sharp contrast, Emmanuel Aguma, the Attorney-General and State Commissioner for Justice, dismissed the deployment of soldiers for the purpose of election as illegal as declared by the court in a case instituted by APC in the Ekiti State election against the deployment of soldiers.
Aguma wondered why APC as a party that went to court over the deployment of soldiers for an election and got judgment in their in Ekiti is now deploying soldiers for the purpose of election.
He threatened that if anybody in the state suffered any injury or loss the government would institute legal action to seek remedies.
When asked if he would accept the result of the Saturday election whichever way it goes, he said,"I have told people that we will win the election so why won't I accept the result? APC cannot win election in Rivers State. You want us do analysis from local government to local government? How will they win it? Let people stop telling lies. Why people are saying we are instigating violence is because we said we would resist rigging."
Meanwhile, the battle of Supremacy between Wike and Minister of Transportation Rt Hon Chibuike Amaechi, has shifted to Radio stations in Port Harcourt.
Amaechi's security infrastructure that was set up by his government to monitor and track down kidnappers and criminals in state was dismantled by the Wike administration due to lack of maintenance and payment of salaries to the personnel that manned the structures.
While Governor Nyesom Wike was on Rhythm 93.7 FM, Amaechi was on FM 95.1 Thursday.
While Wike was urging his supporters to resist arrest, Amaechi was assuring his supporters of adequate security on Saturday.
Wike on air publicly apologised for asking a Caretaker Committee Chairman to physically assault the former Governor by slapping him if he is seen moving from polling booth to another because that would be a violation of the Electoral Law.
He said if what he told the people to physically resist the former Governor on election day is misconstrued, he apologized for the statement.
Wike said as a the Governor of the state and the Chief Security Officer he is entitled to move on that day but had decided to vote and remain in his house and wondered why the Minister would threaten that he would visit his ward.