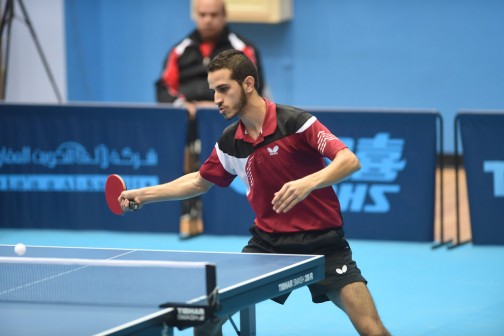 After making his presence felt at the just concluded ITTF World Tour tagged Kuwait Open, Egypt's Shady Magdy is hoping for a return to Lagos for the Nigerian Open scheduled for May 18 to 22 at the Molade Okoya-Thomas Hall of the Teslim Balogun Stadium, Surulere.
The 20 year-old defeated Nigeria's Ojo Onaolapo to claim the U-21 title at the 2015 Nigerian Open and with his performance at the Kuwait Open, he is raring to conquer in Lagos.
Despite being edged out in the semifinal of the Kuwait Open at the weekend, the impact Shady Magdy made in Kuwait caused heartaches to some top players from Japan and Denmark.
ITTFAfrica.com reports that Shady Magdy caused a major upset by beating Japan's Toni Ryuzaki, the No.11 seed, in the first round and he maintained his good form as the player with no current world ranking in the second round defeated another Japanese Kohei Sambe, the No.4 seed, saving three match points in the fourth game, before gaining and early lead in the fifth and never looking back (3-11, 12-10, 9-11, 15-13, 11-8).
Equally, in the opening round of the Men's Singles qualification event, he had been in good form; he had extended Denmark's Zhai Yujia, listed at no.105 on the current Men's World Rankings, the full seven games distance (11-7, 11-9, 5-11, 11-7, 9-11, 12-14, 11-8).
But Shady Magd's adventures came to an end on Friday at the semi-final stage of the U-21 Men's Singles event. He found the fast attacking skills of Hong Kong's Ho Kwan Kit, the No.2 seed, just too hot to handle; a straight games defeat was the order of the day (11-5, 11-3, 11-9).
It was disappointment for Shady Magdy but he was realistic. "Looking back I have to be pleased with my level here. Now I want to play more high level matches; hopefully I will go to the Polish Open and the Nigerian Open," he said.