Kazeem Ugbodaga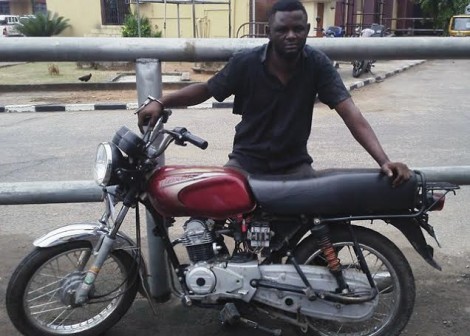 A member of a three-man motorcycle stealing syndicate, Goodness Allison, has disclosed that his members disguise as policeman and military men in order to impound motorcycles popularly called okada, which are later resold to other persons.
Allison, 31, from Idda Local Government, Kogi State, stated that the syndicate, comprising Wilson and Aboki, have seized over seven motorcycles from riders in Ejigbo, Bucknor and Ikotun which were later resold.
He disclosed that they operate from 9:00 p.m. till 11:00 p.m.
"We normally meet in Isheri Junction but during the last operation, Wilson told me to meet him at Bucknor. Wilson dresses like soldier. He wears military polo, long sleeves with camouflage trousers and black shoes. Aboki wears black pullover with black trousers and shoes.
"I was co-opted into the team two weeks ago. Then, I was arrested at Bucknor by Wilson and Aboki on that fateful day at about 9:48 p.m. They said I took restricted road. I pleaded with them to let me go but they told me that I was going to take them somewhere.
"I took them to Ejigbo, where a boy was arrested. I helped them to arrest the Hausa boy and we took his okada. I don't know what they did with the okada but the following day, they called me and offered me N10,000. Unknown to me, it was the same spot where I seized my first okada that I was arrested," he said.
According to him, "Since I have joined them two weeks ago, we have collected more than seven okada. I don't participate in the reselling, so I don't know how they resell them and who they sell them to. We pretend as policemen and seize motorcycles from riders. Some we negotiate and collect money but mostly we collect the motorcycles especially if it is new because that is our target.
"The okada that I am using was bought on hire purchase. It was given to me for N180,000 but I have only paid N90,000. We were on operation to seize another motor cycle when I was arrested. As Wilson and Aboki got off my okada, they walked a few distance and I noticed they have been mobbed but I wasn't sure what exactly their offence was. I moved closer, on a closer look, one of the Hausa boys, from whom I have personally seized motorcycle spotted me and I was about to be lynched when the RRS men came to rescue us but by this time, my colleagues have been released by the mob."
Confirming the report, the Police Public Relations Offier, PPRO of the Lagos State Police Command, Dolapo Badmos stated that the Command was going all out on the remaining criminals in the city, pointing out that, wherever they might be hiding, the police would fish them out.