Femi Adi/Kaduna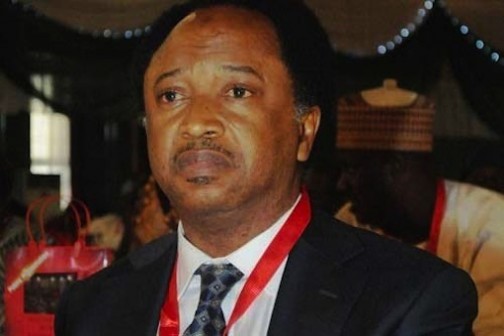 Ahead of Wednesday's planned protest by labour umion in Kaduna, Kaduna State, northwest Nigeria, the Nigerian Union of Local Government Employees, NULGE, Chairmen of Igabi, Chikun, Giwa, Kaduna North, Kajuru and Kaduna South local government areas on Tuesday asked the Senator representing Kaduna Central, Comrade Shehu Sani, to support the NLC and Kaduna workers to fight against de-unionisation of workers and nonpayment of salaries.
Comrades Sanusi Hussain, Abinada Fadason, Kabiru Abbas, Danladi Zubairu, Samuel Samanja and Yahaya Babakumbo, who are NULGE Chairmen of the seven local government areas urged the Senator to back the NLC and other labour unions in the state against what they termed "El-Rufai's anti-union position and attempt to deunionise" civil servants in Kaduna.
Kaduna State government in a form currently being distributed to civil servants in the state had crafted a portion, where workers are expected to indicate whether they will either say YES or No to memebership of union, a clause the NLC and TUC vehemently kicked against.
But out of fear of possible compulsion and intimidation, the NULGE Chairmen said civil servants in the state have been restless and apprehensive since Malam Nasir El-Rufai took over as governor of Kaduna state.
According to them, from June 2015 to date, lots of local government employees have not been paid salaries, stressing "it is painful that we have been forced to go through one stage of verification exercise to another without salaries."
Comrade Yahaya Babakumbo, who spoke on behalf of the NULGE Chairmen, during a courtesy call on Senator Sani at his Kaduna residence Tuesday said "We have been pushed to the wall by El-Rufai's government and we have no option now than to support the NLC, TUC's planned protest to fight for workers' rights in Kaduna."
He also said a situation where workers have turned beggars even when they have means of livelihood is highly regrettable.
In his response, Senator Shehu Sani expressed disappointment over failure on side of the state to pay workers.
He equally condemned the step taken by the government to deny workers of the rights to belong to unions.
"Despite the fact that Nigeria's economy is in crisis there should be no excuse for not paying salaries of workers.
"Workers' salaries should come first before road construction, street lights, amusement parks, housing estates and any physical project.
"Paying wages should be the first line of interest of government.
On the issue of filling form to belong to union or not, the Senator and human rights activist maintained that any government that is opposed to unionism is anti-people.
According to him, workers are the backbone of any revolutionary change and unionism is the only guarantee for the protection of workers' right.
He further stated that anybody working towards de-unionising workers is simply on the path of persecuting them.
"If any worker sacrifices his union identity card, such worker is making himself vulnerable to persecution, retrenchment, insolence and destruction.
"Silence to injustice is accomplice to injustice
"We cannot be elected on the vehicle of change and then use same vehicle to disenfranchise workers, divide or destroy them.
"We have not only agreed that Nigerian workers helped bring about the change, but they also played a role in the liberation struggle against colonialism and military dictatorship."
He therefore advised all Nigerian workers not to in any way give up their right to unionise.
The Senator, who further noted that "the masses are not landlords, technocrats, property developers, not experts, captains of any industry, observed that they are simply the downtrodden who resisted temptation of inducement and persecution to stand under the sun to vote and so, they are the most important of the segment of the economy.
"Workers must defend their rights, NLC and TUC must help to defend rights of workers. I stood by you before I was a senator and I am standing by you now that I am a Senator."
He called on NULGE Chairmen as leaders to stand by their workers and defend their rights against any law that undermines or subverts their fundamental rights to belong to union.
But he urged them to explore all channels of negotiations with authorities concerned and then give a warning strike, before embarking on protest.
"Governors prefer to appropriate funds meant for local governments for their personal projects and take glory for such," Sani said.
While noting that it is time for elected lawmakers at the National Assembly to address the problems facing local governments, he added that "If we don't do that now, local governments will continue to be nothing but an appendage of the state government.
"If the NASS in the upcoming constitutional review will not do anything to rescue the local governments, then you may as well say it is dead."
He emphasised that it is wrong for Federal Ministry of Finance to publish the amount of money sent to local government on pages of newspapers and at the end of the day nothing goes to local governments.
Speaking on election, the lawmaker disclosed that all local government elections are not credible, whether it is conducted by ruling party or opposition party.
He said SIECOM is one of the most corrupt institutions in Nigeria, adding "they fraudulent conduct elections in favour of the ruling party.
"SIECOM is an institution that helps to impose bad leaders and dictatorship at local government councils with the kinds of elections they conduct in states."